Are you ready for another Halloween-inspired crochet pattern? Hopefully, you are because I'm really excited to share this project with you! I love it when I can fuse two of my favorite hobbies together to make one project. This time, I'm meshing my love for three things, my love for stationery, witchy things, and crochet! I crafted this spellbook cover for my Hobonichi Techo. This can also fit any other A6 notebook. I can up with this idea because I can be frugal at times and really didn't want to invest in a new Hobonichi cover so I decided to crochet my own!

If you plan on making this cover, I highly recommend using a sturdy yarn. Use whatever colors you want. The pattern for the cover itself is really simple. The surface crochet part is optional, you can always just cut out the decorations from felt.

If you crochet this project, you can post it on Ravelry or tag me @mooeyscrochet so that I can see your creation. If you want to learn how to crochet, watch my crochet how-to video here. If you would like to support me for making this crochet pattern available for free, you can buy me a Ko-fi. Check out all of my free crochet patterns here and my shop to see my original crocheted items.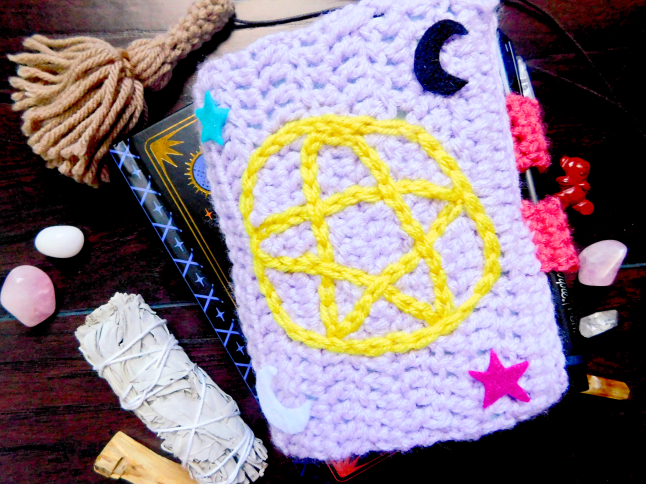 *DISCLAIMER: Links included in this post might be affiliate links. If you make a purchase with the links I provide, I may receive a small commission at no additional charge to you.

Supplies
– H/5.00 mm crochet hook (my favorite hook)
– G/4.25 mm crochet hook
– Worsted weight yarn (I used 
– Felt sheets
– Slanted tapestry needle (I use these)
– Glue (this is my favorite no-sew glue)
– Scissors

Aberrations
ch(s) – chains
st(s) – stitch(es)
slst – slip stitch (same as join)
sc – single crochet
hdc – half double crochet
dc – double crochet
flo – front loop only
blo – back loop only
cc – color change
dec – decrease (same as sc2tog) (single two st together)
inc – increase (make 2sc in a single st)
(x_) – repeat (_) amount of times
[x_] – repeat everything inside the [_] times amount of times

Crochet Level
Beginner

Pattern Notes
The pattern is written in US terms
This pattern uses a magic circle. Magic circle instructions here.
If you have any problems with this pattern feel free to contact me so that I can make corrections to the pattern.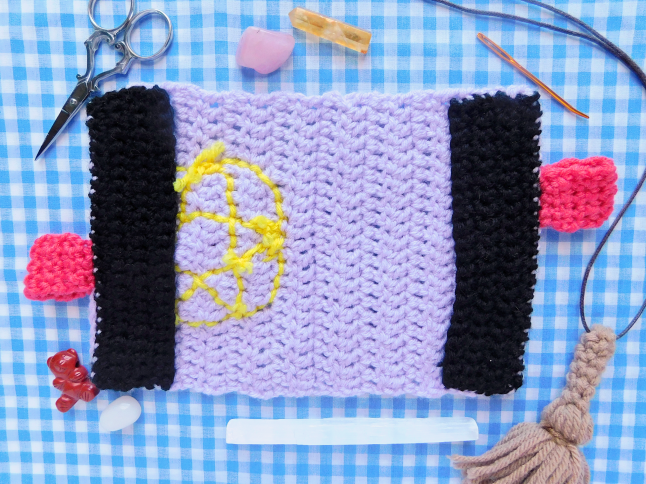 Cover
With H hook and cover color yarn
Row 1: ch 23 sts, sk 2 sts (counts as 1 dc), dc 21 sts. Total = 21 sts
Rows 2-10: dc 21 sts. Total = 21 sts
Row 11: blo, dc 21 sts. Total = 21 sts
Rows 12-20: dc 21 sts. Total = 21 sts
Cut off and leave long tail for sewing

Pockets (make 2)
With H hook and pocket color yarn. insert your hook behind the sts of the sides. Make sure the
color of the cover color doesn't poke out.
Row 1: slst, ch 1, flo, sc 21 sts. Total = 21 sts
Rows 2-7: sc 21 sts. Total = 21 sts
Cut off and leave long tail for sewing
Pen tabs (make 2)
With H hook and pen tab colors
Row 1: ch 5, sc 4 sts. Total = 4 sts
Rows 2-10: sc 4 sts. Total = 4 sts
Cut off and leave long tail for sewing
Assembly
With G hook, surface crochet the decorations onto the cover. I only surfaced crocheted the star on the cover and then used felt and glue to make moons and stars. Next, sew the sides of the pockets down. Then. sew the pen tabs to the side of the cover. Weave all loose ends.

Happy Halloween!