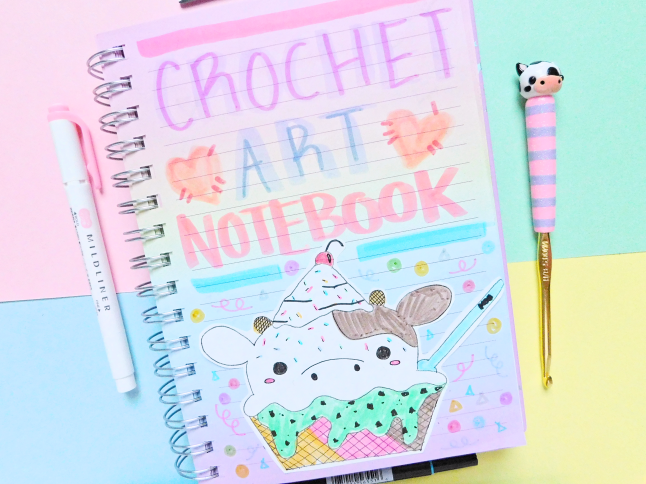 This is a Patreon preview. For more posts like this and more pledge to my Patreon.
I like to draw my projects before starting so that I can get an idea of what shapes to make and what yarn colors I'm going to use which is why keeping a crochet notebook is essential. Today I am going to share a couple of pages from my crochet art notebook. I've had several crochet notebooks in the past but when my last one was complete I decided to get more creative and make a crochet art journal.
What's the difference you may ask? In a regular crochet notebook, I would just draw a quick sketch and write my pattern below. In a crochet art notebook, I draw (and color them) pictures of crochet projects that I would like to make in the future, it's more artsy-fartsy. I also have a few pattern pages but I will show you those in a different post.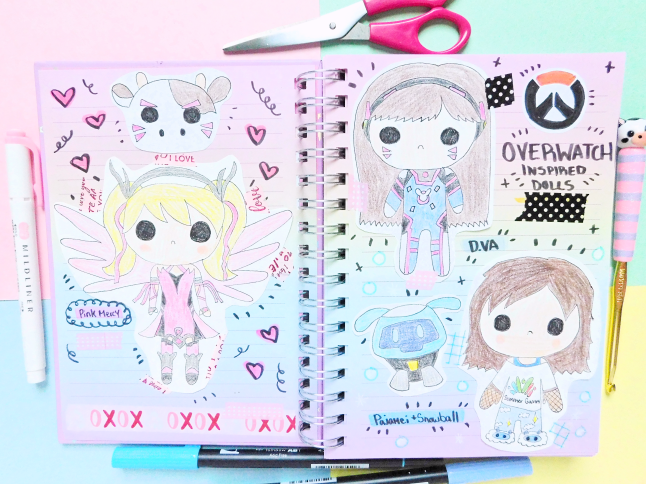 Overwatch is one of my favorite games and one of the things I've been dying to make is some Overwatch-inspired dolls. Here are some of the ones that I would like to make in the future.
D.Va
is the first one I will make because she's my favorite! As much as I love crocheting dolls, they take a lot of work and I usually get bored/frustrated making them halfway through.
Here are some more crochet doll ideas. I actually made that cow kigurumi doll, you can adopt
here
. On the right page, I drew some future Patreon ideas (yes, I know I spelled it wrong, lol). I also made that Mooey coffee cozy already, you can get it
here
.
This is my K-pop fan stick pages. On the left, are the drawings of my GOT7, MONSTA X, IKON, and TWICE fan sticks, all patterns are available on
my blog
. On the right page is the BTS fan stick along with the pattern that I wrote on a scrap piece of paper.
Here's a sneak peek at my next three K-pop fan sticks.
BLACKPINK
has been my most requested fan stick and they're supposed to be making a comeback later this month so it's one that I want to make as soon as possible. Don't worry you will all be the first to see the pattern!
The other two fan sticks are MAMAMOO and Red Velvet. I'm still not sure if I will be making the MAMAMOO fan stick but I'm nearly finished with Red Velvet's so look forward to that pattern soon.
Last but not least is my favorite page in my notebook, my BT21 page! All of these were drawn along with their patterns in a previous notebook but after I completed the BT21 series I decided to cut them out and paste on to this notebook because I'm very proud of these patterns and drawings, even though some look odd. lol
Would you like to see more pages from my crochet notebook?