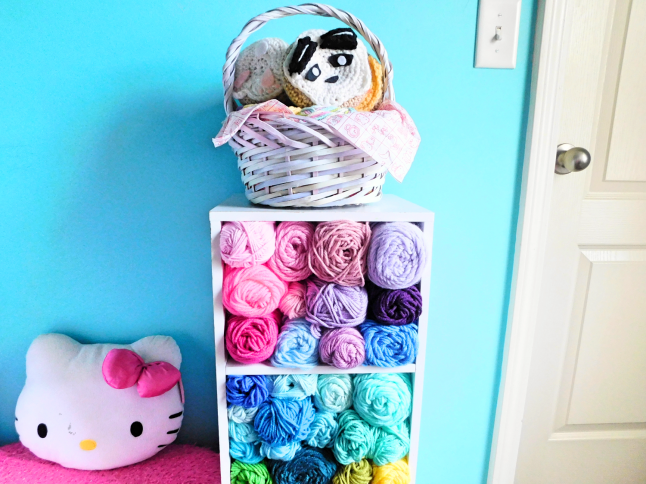 Can you believe I've been crocheting for almost 10 years! Over those ten years, I've acquired plenty of skeins of yarn of all colors and fibers. Today I wanted to give you an inside look at my small but colorful collection of yarn.
My yarn collection is stored in this bookshelf with four squares. As you can see I prefer to work with solid colored yarn because patterned yarn can be annoying to work with. I do own a few multi-colored yarn skeins but not many. I tried my best to organize my yarn by color but some colors overlap into different color families but it doesn't me.
Worsted weight yarn is my favorite fiber to work with because it's easy to work with and ideal for the type of projects I make. The brand of worsted weight I use the most is Red Heart's Super Saver yarn but I also really love Hobby Lobby's selection of worsted weight yarn, I Love This Yarn and Crafter's Secret. Other places I like to shop for yarn is Knit Picks. If you would like to know where I bought a specific yarn let me know and I will try to remember.
On the top shelf, I keep my pink and purple yarn skeins. A lot of the time I buy yarn without a project in mind because I love the color so much. haha
On the second cubicle, I store my blue and green colored yarns (and one yellow skein). I'm drawn to light blue and teal colored yarns because I just love those types of color. When I start a new project and able to choose whatever color I want I'm very likely to pick one of those colors.
In the third square, I keep the orange, yellow, red and brown or as I like to call it 'the autumn shades'. I'm not a huge fan of types of colors because I'm more or a bright pastel type of girl but some of the projects may require these colors so it nice to have these colors available for when I need them.
At the bottom of the shelf, I keep my neutral colored yarns such as black, greys, and white yarn. I also have a few skeins of brown that couldn't fit in the previous cube. I like to keep two huge bundles of black and white because I go through those colors the most. The shelf looks the messiest because of the variety of fiber of yarn in this section.
I keep all of my cotton yarn in a basket because I have nowhere else to keep my yarn, they obviously couldn't fit in my yarn shelf! The basket is lined with Hello Kitty tissue paper so that the yarn doesn't get caught on the basket.
On the top of the basket, I keep three crocheted donuts that I made a few years ago. The panda donut is inspired by the panda donut from Califonia Donuts. The bunny butt and chick donuts are inspired by the Krispy Kreme Easter collection.
Most of them are from Lily Sugar 'N Cream cotton yarn. As you can see I have a few rolls of patterned cotton yarn but I barely use any of them.
And that's it! Like I said, I keep another basket where I keep the leftover yarn of finished projects. I didn't share a picture of this basket because it's really messy and overflowing with yarn balls.
How do you keep your yarn organized?
Related Posts