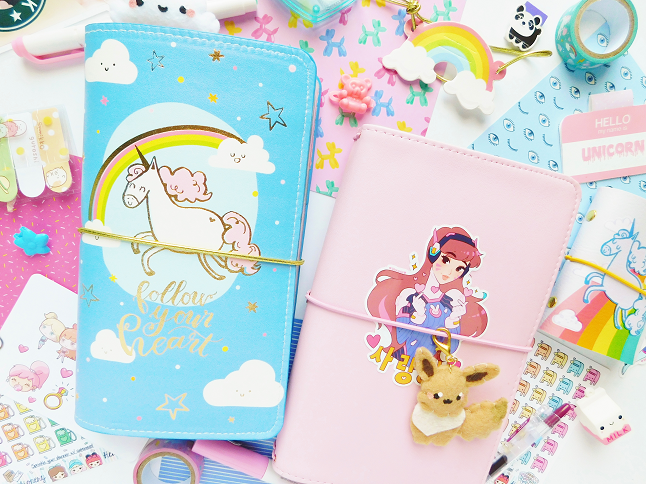 I've been teasing about my traveler's notebooks for months but now I'm finally sharing my traveler's journals. That's right, I have more than one! I didn't want to make this post too long so instead of showing each page I will just share the highlight pages.
This is technically not a Traveler's Journal because it's a tad bit wider than a traditional traveler's notebook but it has a similar style. This journal is from Target and made by MayDay Designs. I adore the pastel pink color and rose gold hardware detail but I loathe the inside pocket because of its odd D-shape. I even tried adding those clear sticker pockets but I couldn't find one that fits.
I didn't share any pictures of this journal because the inside isn't as cute as I would like it to be. Let me know if you would like to see a separate post on the inside though and maybe it will encourage me to decorate it more. haha
The Eevee is from Love Neen and the D.Va sticker is by Vicki.
These two adorable journals are from Michael's Craft Store, each was less than $10! These look more like classic Midori because they're around the same size, the purple one doesn't have any pockets on the inside so it's like a traditional Midori.
On the other side of the clear pockets is one large flat pocket where I keep two dessert post-it notes. On the right side, I have another shaker dashboard.
The other Travelers notebook is still new so I haven't had the chance to decorate and organize it yet. I'll just share these pages with you because I quite like it.
The back of the polaroid notebook is so cute!
Do you own a Travelers Notebook?
Related Posts