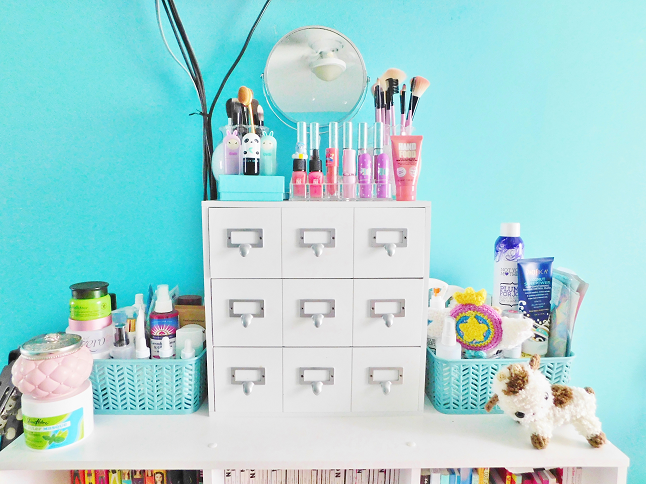 If you read
this post
then you know that I recently gave my room a nice spring cleanse, this includes my makeup area. I try to keep my makeup storage clean by getting rid of old dated beauty products because I don't want my skin to break out. I don't think I own that much makeup, to begin with, but
you
be the judge.
My makeup area sits underneath my television which is attached to the wall, hence the cables. This is my makeshift makeup vanity but without a chair to sit on. Yes, I stand up when I do my makeup.
I use
this desktop storage
I bought from Michaels. I thought that each square would individually open but as you will see in the pictures they don't. On the sides, I keep two teal-colored baskets where I keep my skincare and haircare products.
On top of my makeup storage, I keep my makeup brushes, vanity mirror, my Tony Moly animal sticks, a few of my favorite lip products and Soap + Glory hand food.
Let's take a look at whats inside my makeup drawers. In the left section, I keep random stuff like beauty samples, spongesDIY sheet mask packs, etc. In the middle, I keep eye makeup like mascara, eyeliner, eyebrow products, etc. In the right, I keep most of my lip products.
Now onto the middle drawer. On the left, I keep my bb creams and concealers. In the middle and right sections is where I keep all of my cushions.
Finally, the bottom drawer! The left section contains all of my eyeshadow palettes, mainly Too Faced palettes. On the right, I keep face products like blushes, primers, contour pacts, etc.
Where do you keep your makeup?
Related Posts