One day in February I was walking in a store when I discovered an edible long pastel-colored marshmallow rope. At the same time, I was coming up with ideas for gifts I could get Lucy for her birthday (February 20). That's when I put the two together and created this twisted marshmallow dog toy! Lucy used to have a twisted rope time a long time ago which she loved and detangled but since then we've never given her a replacement so I crocheted her one.
This is a pretty simple pattern all your doing is crocheting long tubes and tieing them up together so it should only take you a few hours to make. If you want another dog toy pattern check out my
chocolate strawberry pattern
that I made a few years ago.
Supplies:
– Pink worsted yarn
– Yellow worsted yarn
– Teal worsted yarn
– White worsted yarn
– H/5.00 mm crochet hook
– Hot glue gun
– Scissors
– Yarn needle
Aberrations:
Ch(s) – chain(es)
St(s) – stitch(es)
Cc – color change
Slst – slip stitch
Sc – single crochet
Dec – decrease
(x2) – repeat __ amount of times
Ropes (make 4)
– Ch 6, sc 6 sts. Total = 6 sts
– Sc 6 sts (repeat until you reach 40-50 inches). Total = 6 sts
– Dec 2 sts (x2). Total = 4 sts
Cut off, leave long yarn strands for sewing
After you've crocheted four 40-50 inch ropes it's time to attach them together. Sew two of the ropes together, repeat the other two ropes. Apply hot glue to the center of one of the rope pieces and quickly lay the other rope piece on top. Now all of the ropes should be gathered together.
Create two knots on each end to create the toy. Gently twist the spaces between each knot and sew to secure the twists. Sew straight down, repeat on the other end and the space between the knots.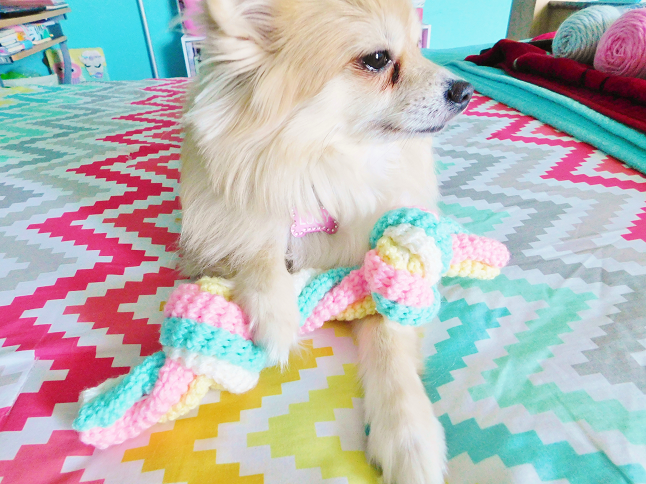 Here is Lucy playing with her twisted marshmallow dog toy. Isn't she a perfect model?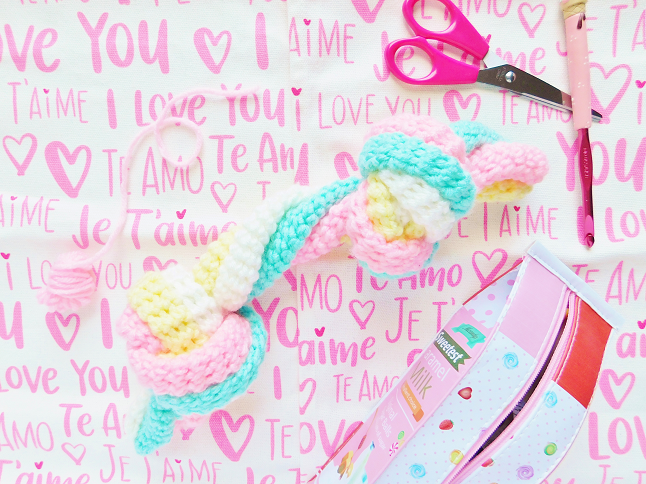 Related Posts
BT21 Chimmy Plush ♥ Crochet Pattern
Lucy's Halloween Costumes ♥ Blogtober
Furry Friends TAG ♥ Lucy's 2nd Birthday
Chocolate Strawberry Dog Toy ♥ Crochet Pattern