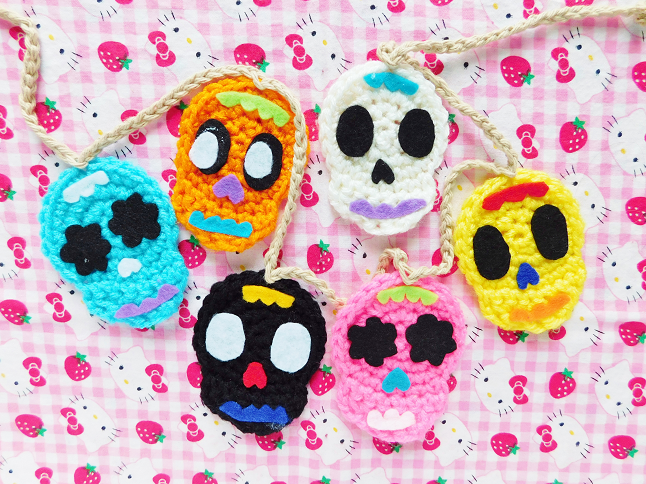 Today I have another crochet pattern for you guys. This time I am showing you how to make skull garland perfect for Dia de Los Muertos aka Day of The Dead. Even though I am Mexican-American I have never celebrated Dia de Muertos even though I have always wanted to because it sounds like such a beautiful holiday. A little history on Day of the Dead: Dia de Los Muertos is a 3-day Mexican holiday (October 31 – November 2) where people gather together to celebrate their family and friends who have passed away. They hold festivals, go to cemeteries to pay respect to their loved ones, make Mexican food (the favorite foods of their dead relatives), and put up colorful decorations. A common decoration used to celebrate Dia de Los Muertos are skulls, they make colorful sugar skulls and pan de muerto (dead bread), a sweet bread that looks like twisted bones sprinkled lightly with sugar, it's pretty good!

If you crochet this project, you can post it on Ravelry or tag me @mooeyscrochet so that I can see your creation. If you want to learn how to crochet, watch my crochet how-to video here. If you would like to support me for making this crochet pattern available for free, you can buy me a Ko-fi. Check out all of my free crochet patterns here and my shop to see my original crocheted items.
*DISCLAIMER: Links included in this post might be affiliate links. If you make a purchase with the links I provide, I may receive a small commission at no additional charge to you.

Supplies
– H/5.00 mm crochet hook (my favorite hook)
– Colorful worsted weight yarn
– Black worsted weight yarn
– White worsted weight yarn
– Twine or beige yarn
– Black felt
– Various colorful felt
– Slanted tapestry needle (I use these)
– Glue (this is my favorite no-sew glue)
– Scissors
– Sewing pins

Aberrations
ch(s) – chains
st(s) – stitch(es)
slst – slip stitch (same as join)
sc – single crochet
hdc – half double crochet
dc – double crochet
flo – front loop only
blo – back loop only
cc – color change
dec – decrease (same as sc2tog) (single two st together)
inc – increase (make 2sc in a single st)
(x_) – repeat (_) amount of times
[x_] – repeat everything inside the [_] times amount of times

Crochet Level
Beginner

Pattern Notes
The pattern is written in US terms
This pattern uses a magic circle. Magic circle instructions here.
If you have any problems with this pattern feel free to contact me so that I can make corrections to the pattern.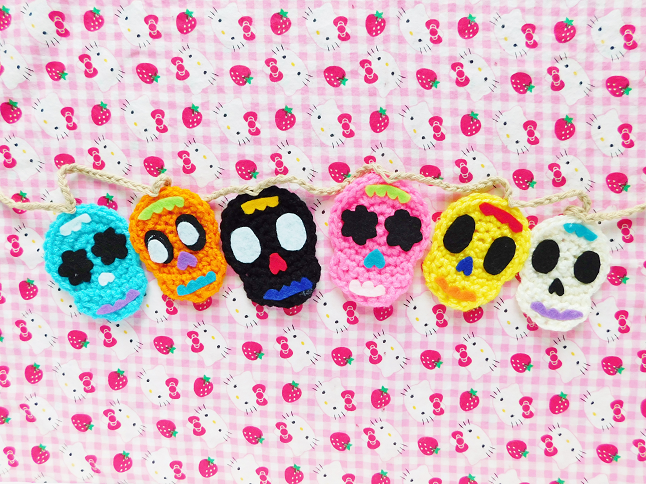 Skulls (make as many as you want)
With H hook and yarn
Round 1: magic circle, sc 6 sts. Total = 6 sts
Round 2: 2sc in each st all around. Total = 12 sts
Round 3: 2sc in each st all around. Total = 24 sts
Round 4: sc 24 sts. Total = 24 sts
Round 5: sc 7 sts. Total = 7 sts
Round 6: ch 1, turn, dec first two sts, sc 3 sts, dec last two sts. Total = 5 sts
Round 7: ch 1, turn, dec first two sts, sc 1, dec last two sts. Total = 3 sts
Cut off and weave yarn ends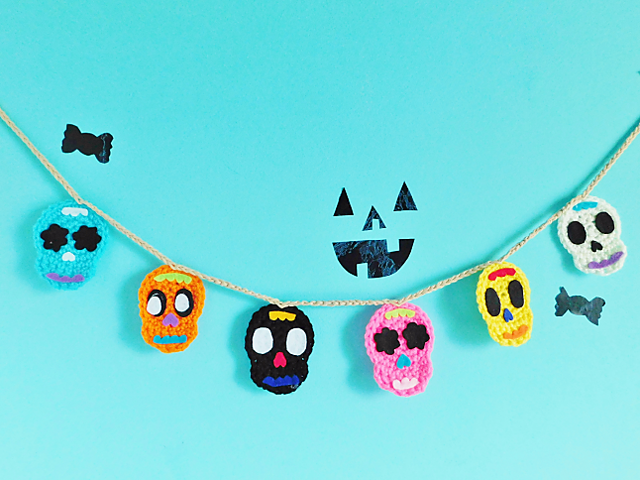 Assembly
Cut out various pieces of felt, the more color the better! I could've gotten into more details but I was happy with how they turned out with just the felt. Glue the felt to the crochet skulls and wait for them to try.

To attach the skulls together start with a beige-colored yarn (or twine). Ch 10 sts, slst to form a loop. Sc 20 sts, slst to one skull. Sc 15 sts, slst to another skull (repeat until you reach the last skull). Sc 30 sts, slst to the 10th st.

Do you celebrate Dia de Los Muertos?