Every year before I go on summer vacation I stock up on makeup products and buy some new makeup that I can use while on holiday. This time I decided to buy some new Korean cosmetics because a lot of the new summer collaborations were out which means cute packaging! I ordered from multiple different stores such as Tester Korea, eBay, and Amazon. I had a problem ordering off of Tester Korea which I will address in the post. If you are interested continue reading.
I placed an order off of
Tester Korea
because it was the only site at the time that was selling the Peripera Perikiki collection for an affordable price.
I placed my order on June 19 because I wanted my order to arrive before I left in Mexico. However, it didn't arrive in time (it actually arrived the day after I left!). It took over a week for my order to ship because one of the items that I ordered was sold out but it wasn't until I emailed them that they responded! Who knows if they would have ever contacted me if I didn't message them first. Also, when my package arrived the Peripera Sun Cushion that I ordered didn't come in the special Perikiki packaging that I had ordered. Again, they didn't email me saying that it was sold out so I had to message them again! Thankfully, they did refund me my item but it was only in Tester Korea points, which I don't mind because I know I can use those points on my next order. Another thing that I found odd with this order is that I didn't receive any samples.
I've ordered from Tester Korea multiple times before and have never had any problems with any order. The shipping is also always reasonable and arrives in a couple weeks. However, this order was just a wreck.
Etude House My Beauty Tool Air Puffs
I'm someone who washes my cushion puffs very often but you can only clean your puffs enough before they get gross. I bought these puffs because I needed them and the designs on the front looked cute.
Peripera No Sebum Milk Sun Cushion
I have always wanted to try a sun cushion. It's basically a cushion that dispenses out sunscreen instead of foundation. This will come in handy when you want to reapply sunscreen without using your hands.
This was the cushion that they sent the wrong version of. It sucks that I couldn't get the Perikiki version of this cushion because the design is super cute but I will end up using it.
Peripera Perikiki Ink Lasting Mint Cushion
Can we just talk about the packaging of this cushion, it's incredibly cute! When I saw the Peripera Perikiki cushions online and fell in love with the designs of the cushion that I had to order some (of course I didn't get the sun cushion…). I also wanted to try a new cushion so it worked out on both ends. This cushion has a mint tone blurring effect that balances out the redness in the skin. They also have a cushion with a pink tone whitening effect for those with dull skin.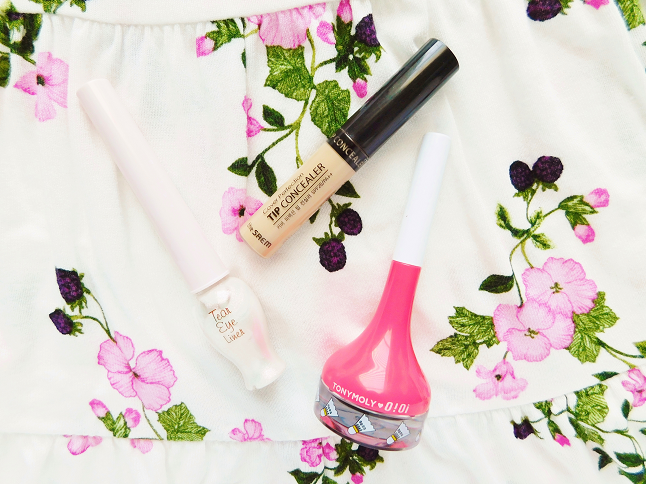 Etude House Tear Drop Eye Liner – #3 Pure Sparkling Pearl
Glitter liners are my favorite! I like to apply them in the inner corner and middle of my under eyes for that aegyo-sal look. The Etude House Tear Drop Eye Liner is my favorite liner to get this style. This time I decided to get another color because they have several different shades that I want to try.
The Saem Cover Perfection Tip Concealer
I wanted a new concealer to cover up blemishes so I bought this one by The Saem. I've tried this concealer before a couple years ago but don't remember if I loved it or not so I decided to buy it again.
Tony Moly OiOi Back Gel Eye Liner
This is my favorite eyeliner so when I saw that they had a special summer packaging I didn't hesitate to buy it.
Peripera Perikiki Airy Ink Velvet – Neon Pink
I've heard many positive reviews on the Peripera Airy Ink Velvets saying that the formula is amazing so I decided to check them out. Neon pink wasn't the color that I wanted to try but after testing it a couple times on lips the color has grown on me.
Peripera Airy Ink Velvet – Pretty Orange Pink
This was the color I originally wanted but when I found out that they didn't have it in stock I decided to order it off of Amazon again because it was eligible for Prime shipping. This color is gorgeous and great for everyday wear. Let me know if you guys would like to see a review on the Airy Ink Velvets.
The Perikiki version of the Airy Ink Velvet comes with a mysterious figure that you can place on top of the bottle! Such a cute idea!
Related Posts