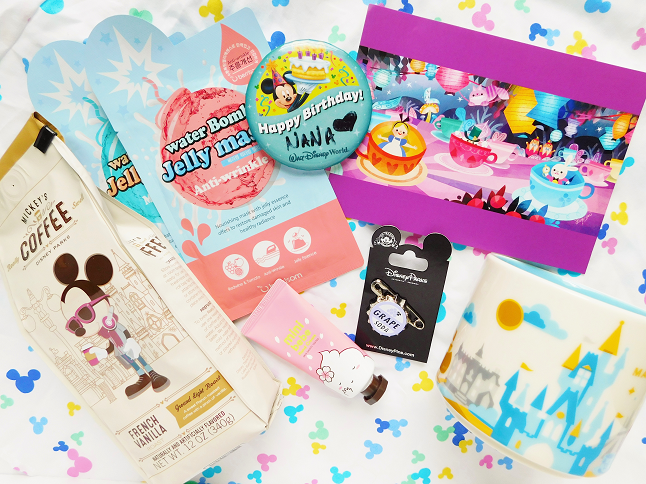 I'm back from my weekend trip to Orlando! It was so hot and humid I almost died but I had a fun time. Today I am going to show you guys what I picked whilst in Orlando. We only went to the Orlando Premium Outlet, Disney Springs, Target and Magic Kingdom. I wanted to explore Disney Springs and the Magic Kingdom but we went on rather humid days so we got exhausted really quick. I will still share the few things I bought though.
Here are all my Disney themed items I purchased. At Disney Springs I found Mickey's Coffee that I wanted to get and the Ellie badge/pin! The Alice in Wonderland mug and postcard are from the Orlando Premium Outlet. At the Magic Kingdom, I got my free birthday pin (my birthday isn't til July 14 but this trip was in honor of my birthday). A lot of the cast members said Happy Birthday to me and I even got a free chocolate cake so wearing the pin did have its benefits.
Fun fact: My sisters and I call each other 'Nana'. My younger sister wrote the name on the pin but it was so hot and humid that the name started to fade!
Here are the non-Disney goods I bought. They had a lot of Korean beauty products at Forever 21 I visited. I only bought two Berrisom Water Bomb Jelly Masks though and an ice cream loofah. The rest of the beauty items are from Sephora (minus the Essence concealer which is from Target). I got my free birthday gift from Sephora, Tarte blush, and lip gloss. I also found a travel-size duo by Drunk Elephant that includes the famous Glycolic Night Serum which I heard amazing reviews on. I also bought a Mini Bebe Hand Cream by It's Skin and the Supergoop Defense Refresh Setting Spray with SPF 50.
Related Posts