Here is part two of my January favorites, check out
part one here
. I didn't think I had that many lifestyle favorites but when I actually sat down and started thinking about what items I reached for and loved the most in January I noticed I had more then I thought I did. Let's get started!
Just Peachy Pins
I've recently started collecting pins. Pins are actually really trendy at the moment. You can wear them on your clothes or bag but I honestly just like looking at them on dream board. My favorite shop for pins is
Just Peachy
, they have such cute designs like that Mimikyu pin!
You, Me and Coffee Mug
I drunk a lot of tea in January and 80% of the time you could find me using this mug. It's from Target's Valentine's collection, there are various designs and they only cost $5!
Mini Happy Planner Cover
Ever since I bought my Mini Happy Planner I've been looking for accessories to decorate my planner with. Isn't that cover from Hello Paper Cat the cutest? You can see all of the other goodies I bought from her
here
but that cover is my favorite!
SmartyPants Adult Probiotic Complete Gummies
Every now and then I like to see Amazon's deal of the day. One day I noticed that they had Smarty Pants gummies for only $9! I decided to buy them not only because they're cheap but also because they're a probiotic. Probiotics help your gut process everything. I've been looking for vitamins that don't contain any gelatin and these don't so they're safe for vegetarians and vegans. I take 1-2 every morning and they've definitely made my stomach feel at ease.
Bigelow Green Tea with Lemon Tea
In January, I suffered from a cold. My main three liquids were water, lemon water and this green tea with lemon. This is one of my all-time favorite teas. I've bought multiple boxes of this tea in the past that I've lost count. You can really taste the lemon in this tea which makes green tea drinking more enjoyable. I've even gotten my younger sister to start drinking this tea and she hates tea!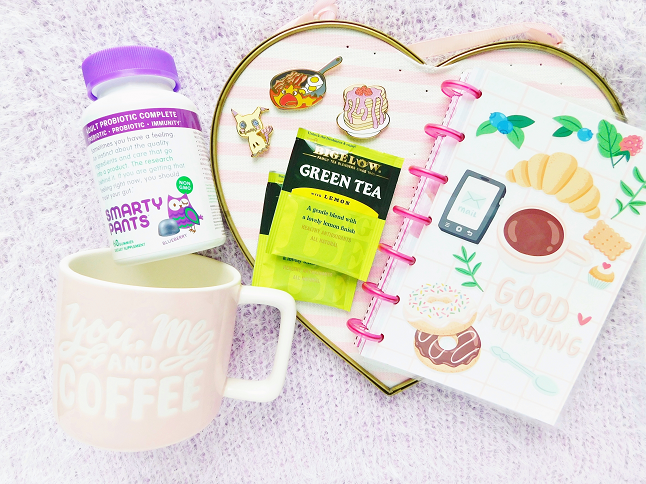 Related Posts