Last week
Davids Tea
had a free shipping offer so I decided to take advantage of this deal because they don't normally have free shipping. I ordered three teas that I've been wanting to try. All three teas are dessert flavored, which makes tea drinking even more fun! I have yet to try any of these teas so unlike
my previous tea tasting Davids Tea haul
I'm going into this haul completely unaware of how these teas taste. However, I did share pictures of what they look like because Davids Tea always has the most magical looking loose leaf teas!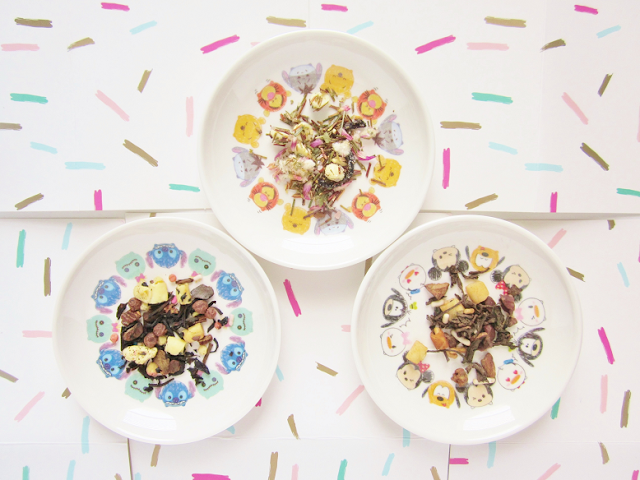 Can you guess which tea is which?
"There's not much you can count on in this topsy-turvy world, but one thing we're sure of is a chocolate cake. No matter who you are, a big slice of cake is pretty much guaranteed to make you happy. We call it the Sweet Life Theory: life just isn't as sweet without chocolate. And this cocoa and cake-scented tea are just as rich and chocolaty as the real thing. With this in your cupboard, a smile is always within arm's reach. No baking or shopping required. "
I was very intrigued by this tea because I wondered what would a chocolate tea taste like? My first thought was hot cocoa! A toasty cup of chocolate tea milk with a splash of almond milk sounds delicious! Add some plain cookies for dunking into the tea and you have yourself a delightful treat!
"It's no secret raspberry cream pie is the star of every dessert party. This springtime treat has a habit of flaunting its flaky crust, creamy filling, and fresh raspberry topping. And we fall for it every time. Beautiful on the outside and satisfying sweet on the inside, this decadent rooibos blend is no different. With white chocolate, raspberries, rose petals and pink sugar sparkles, there's simply no resisting it. And with next to no calories, this is one indulgence you can feel good about."
The name of this one got me (then again all the names sold me on all of these teas). Then I read the ingredients, white chocolate, raspberries, rose petals, and pink sugar sparkles. Doesn't that sound freaking amazing! I'm going to brew this in some almond milk instead of water and create some sort of a raspberry cream pie latte! I can imagine it tastes heavenly!
"Does life get any better than chocolate cakes? Well..what about chocolate ice cream cake? It's basically the king of desserts – rich, sweet and creamy. And with this decadent black tea blend, your favorite indulgence is just a sip away. It has everything you want in a dessert: white chocolate, vanilla, carob, sprinkles and little pieces of freeze-dried ice cream. Try it with a dollop of whipped cream. And a cherry on top."
Another cake tea? Yaaasss! I've probably tasted every cake tea Davids Tea has ever released. Birthday, Red Velvet, Chocolate and now Ice Cream Cake! *
Plays Red Velvet's Ice Cream Cake song
* To make it feel more like ice cream add some ice and create an iced tea, perfect for spring/summer!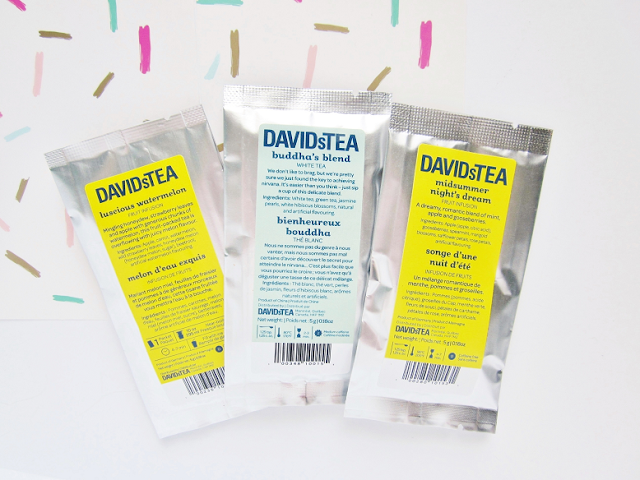 Every Davids Tea comes with three free tea sample packets. You can either choose the teas or let them randomly pick them out for you. I decided to pick these three teas as my samples. Luscious Watermelon Tea, Buddha's Blend White Tea and Midsummer Night's Dream Tea. I've always wanted to try Midsummer Night's Dream and Buddha's Blend, cannot wait to brew them!
Have you tried any of Davids Tea?