Starbucks recently released their famous pumpkin spice latte nationwide! In honor of the release of the delicious spiced pumpkin latte, known as PSL, I made this sweater coffee sleeve/cozy. It's actually inspired by a PSL Starbucks promotion. In one of those ads, a hot Starbucks PSL wears an orange-colored oversized knit sweater, since I don't knit that well I decided to make a crocheted version of the sweater cozy and I think it actually came out pretty well! I did use darker orange color in my pattern but feel free to use whatever color you like. Next time you're making a Starbucks run, make sure to whip out your sweater cozy next time you are at Starbucks grabbing your favorite latte to keep your coffee bundled up!

If you crochet this project, you can post it on Ravelry or tag me @mooeyscrochet so that I can see your creation. If you want to learn how to crochet, watch my crochet how-to video here. If you would like to support me for making this crochet pattern available for free, you can buy me a Ko-fi. Check out all of my free crochet patterns here and my shop to see my original crocheted items.

*DISCLAIMER: Links included in this post might be affiliate links. If you make a purchase with the links I provide, I may receive a small commission at no additional charge to you.
Supplies
– H/5.00 mm crochet hook (my favorite hook)
– Orange worsted weight yarn
– Slanted tapestry needle (I use these)
– Scissors

Aberrations
ch(s) – chains
st(s) – stitch(es)
slst – slip stitch (same as join)
sc – single crochet
hdc – half double crochet
dc – double crochet
flo – front loop only
blo – back loop only
cc – color change
dec – decrease (same as sc2tog) (single two st together)
inc – increase (make 2sc in a single st)
(x_) – repeat (_) amount of times
[x_] – repeat everything inside the [_] times amount of times

Crochet Level
Beginner

Pattern Notes
The pattern is written in US terms
This pattern uses a magic circle. Magic circle instructions here.
If you have any problems with this pattern feel free to contact me so that I can make corrections to the pattern.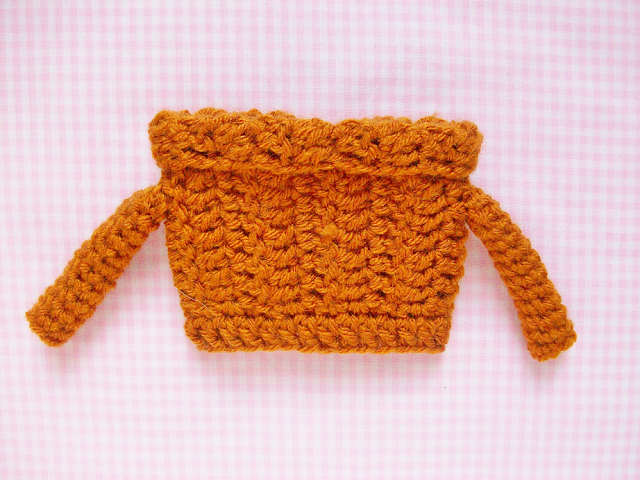 Sweater Cozy
With hook and orange yarn 
Row 1: ch 13 sts. Total = 12 sts
Rows 2-19: ch 1, dc 12 sts. Total = 12 sts
Cut off and weave ends

Sew the first and last row together with a tapestry needle. This will form a tube that will make the coffee cozy sleeve.

Turtleneck
Fold-down the top part of the sleeve to create a collar. Sew to secure the collar. Be careful and try to hide the stitches under the collar, you can use sturdy glue (or hot glue) if you prefer to glue instead of sewing.

To create the bottom part of the sweater. Insert your hook to the bottom side, opposite side of the collar.

Row 1: slst, sc 28 sts. Total = 28 sts
Row 2: ch 1, dc 28 sts. Total = 28 sts
Cut off and weave ends
Sleeves (make 2)
With hook and orange yarn
Round 1: magic circle, 6 sts. Total = 6 sts
Rounds 2-11: ch 1, sc 6 sts. Total = 6 sts (or until sleeve reaches 3 inches)
Cut off and weave ends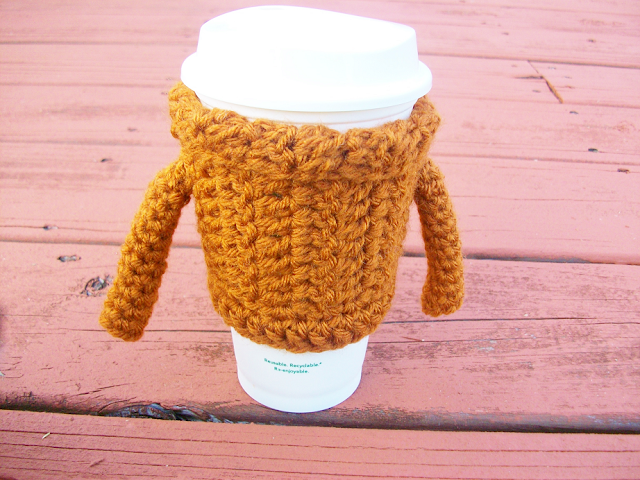 Assembly
Attach the sleeves by sewing the sleeves under the sweater collar. Make sure no stitches are visible, feel free to use glue for this if you would like.

Do you love the pumpkin spice lattes?