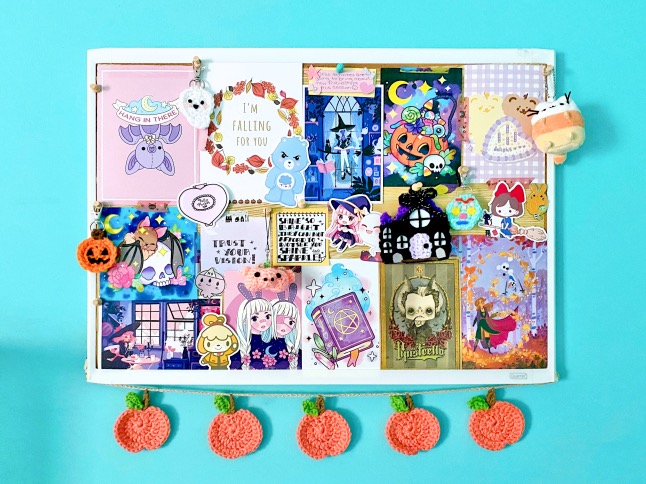 Every season I enjoy rearranging the bulletin board over my desk with different art prints, images, inspirational quotes, and other things that inspire me. It really helps me embrace the season. I spend a lot of time at my desk so I like to create an inspirational environment to keep my creative juices at a flow. I've done multiple mood boards before (check out my previous Halloween mood board here) and if you've seen all of them then you'll notice that I tend to use the same items but in different placements to keep things refreshing. The theme for this season's mood board was spooky things, think pumpkins, bats, witches, stuff like that. I also choose colors like purple, blue, pink, black, and orange to make the board vibrant and fun.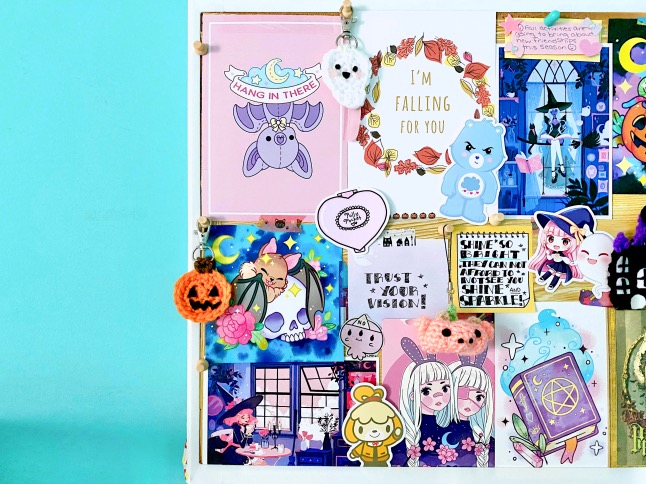 On the left side of my bulletin board, I have a BrightBat print, Michelle Coffee print (from her Pateron), and a Vickisigh witch print (from her Patreon as well). The Polly Pocket diecut is by Angel Shoppe. The Ghost nurse sticker is by Whimsicute. The autumn Isabelle is from Hello Paper Cat. The Halloween keychains are from my shop.

I'm currently running a giveaway over on my Instagram where you can win some of my spooky Halloween keychains. Enter here!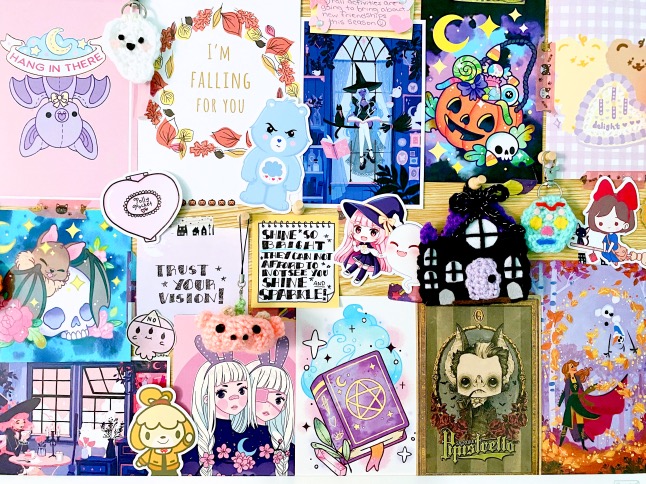 On the middle of my bulletin board, I can't remember where the 'I'm Falling For You' print is from, the Grumpy diecut is from Hello Paper Cat, the two post-it notes were written by me with inspirational quotes that really speak to me, the pumpkin keychain was also made by me, the bottom print is by Shiroi Room, the blue witch print is by Vickisigh, the witch & ghost diecut is also by Hello Paper Cat, and the magic book print is from Michelle Coffee.
On the right side of my bulletin board, another print from Michelle Coffee, the bear cake print is from Jelly Love Club, a D.VA pumpkin pin by Sharodactylart, the crocheted haunted house was made by me, the Kiki witch diecut is from Hello Paper Cat, Pusheen candy corn keychain, a Gideon's Bakehouse print, and an Anna autumn postcard from DisneyWorld.
At the bottom of my bulletin board, I have a pumpkin garland strung across the board. The crochet pattern for the pumpkin bunting is available here.

What do you keep on your bulletin board?