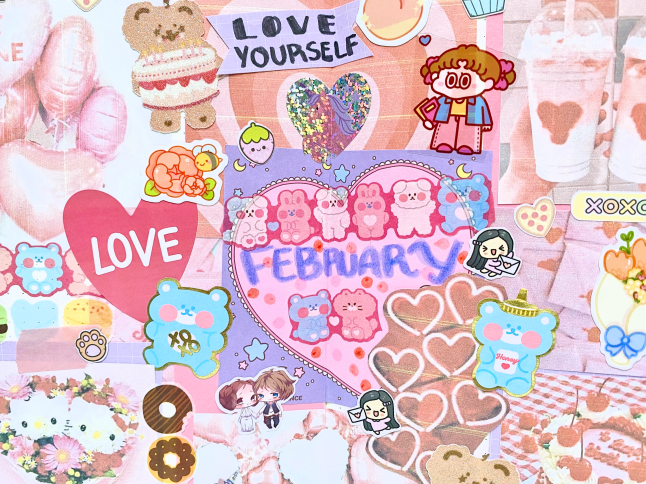 *DISCLAIMER: Links included in this post might be affiliate links. If you make a purchase with the links I provide, I may receive a small commission at no additional charge to you.

What I Watched
WandaVision
This series follows Wanda and Vision living their ideal suburban dreams. However, not everything is what it seems after a series of particular events happen.

There is still one more episode left in this series which will be out this Friday but I'll only talk about what I've seen so far, don't worry, no spoilers. The show is one big mystery after another. If your not someone who's in all the MCU films then I think you'll have a hard time keeping up with this series. By the way, Elizabeth Olsen is a phenomena actress in this series. I'll be shocked if she doesn't win some awards for her role as Wanda.

True Beauty
This Korean drama is based on the Webtoon, True Beauty. It follows the story of a girl, who was bullied for being "ugly". As a result,  so she learns how to do makeup in order to disguise her face. However, when a schoolmate finds out her secret will he reveal it to the whole school?

INCOMING RANT. I haven't finished this drama yet because I just couldn't keep watching! I stopped after episode 8 because I just couldn't handle all the changes they made. This should've been a simple drama to turn into a drama but the creators of this series just made too many unnecessary changes. I'm sorry for the rant but I was really excited to find out there was a drama for a webtoon that I loved only to find out it was a huge disappointment. If you've watched and read True Beauty let me know what you think because I'm beginning to feel like I'm the only one who felt this way about the live adaptation.

Kim's Convenience
A Candian-based sitcom about a family running a Convenience store.

My older sister recommended me this series to me. It's an easy watch, nothing too dramatic happens which is nice because sometimes I need a palette cleanser. haha

Crime Scene: The Vanishing At The Cecil Hotel
This is a Netflix docuseries on the notorious Cecil Hotel. Follow along as they try to figure out what really happened to one of their most memorable guest, Elisa Lam.

I listen to a lot of true crime and paranormal podcasts so I've heard the story of Elisa Lam plenty of times but this was my first time seeing actual footage. It's very interesting how every podcast I listened to had different theories but now after watching this documentary I've made my own assumption, and I think she was at fault. If you've watched this or heard any podcasts about the subject, what do you think happened?

What I Listened
NCT2020
All of NCT music catalog! Literally everything from all of NCT 2020 associate acts like NCT127, NCT Dream, NCT U, Super M, and WayV. There wasn't too much music released in February, I mean January had a plethora of new music so I didn't mind. NCT has a huge enough music library to keep you busy for months anyways! haha

GOT7 – ENCORE
After GOT7 left JYP all IGOT7 thought we wouldn't be able to hear them sing together ever again. However, GOT7 surprised us all with the release of 'Encore'. I was moved to tears. Hopefully, this isn't the last time we hear them as a group.*cries*

Things I Did
Granny Square
If you haven't been following my granny square blanket process, here's an update, I'll still not finished! I ran out of the soft white yarn that I used to outline all the squares, this will connect them together later on. The yarn just arrived a few days ago so I'm going to try to finish it this week because 60 granny squares take up a lot of room on my desk! Follow my crochet Instagram for all my crochet-related content.

What I Bought
Essential Oil Diffuser
If you've been following the oil diffuser saga over on my Instagram. Well, I'm here to say that I've finally found a diffuser that I love! This diffuser isn't 100% perfect but it's perfect enough for me. In the next day or two, I'll post a story on my IG listing the pros and cons and why I decided to keep this diffuser.

Nissin Soy Sauce Flavor Top Ramen
Since the start of the pandemic, I've been trying to buy a case of my favorite ramen because ramen is a necessity, especially during a lockdown. Nissin sells this soy sauce ramen which is vegan-friendly they also have a chili one that's vegan-friendly but your girl can't handle spicy food. Before I bought this, I would just use the noodles from any ramen packet, discard the powder, and make a soy sauce broth base on my own.

Things I Love
Started reading again
I bought 365 Goddess: A Daily Guide to the Magic and Inspiration of the Goddess in order to help me read a little bit every day. There are 365 pages, one for a goddess each day. It's been really fascinating to read about some goddess that I wouldn't have known if I didn't read this book.

Last months goals
Studying Korean again – CHECK…KIND OF?
I technically didn't start studying like I use to but I did start watching and listening to a lot of Korean study videos and podcasts to help me brush up. I've also been challenging myself to watch variety shows without looking at subtitles. Back when I was living in Korea I would watch IG live and Vlives of my favorite Korean artists to help me learn Korean and that really helped. 

Lifting weights – CHECK
I completed this and I did see results after lifting every day for a month so I'll keep this in my workout routine, for now.

Goals for next month
Learn how to play guitar
Some background information, I wanted to learn guitar back when I was 13-15 years old because that was my "Beetles" and "emo" phase and I always thought the guitars were such intriguing instruments. However, no matter how much I tried I could never get the hang of it. I find guitars the most intimidating of all the instruments, and that's coming from someone who knows how to play the clarinet! I even own three guitars (two classic acoustics and one electric) but don't know how to play any! I've already dusted out and restrung my acoustic guitar so I'm really hoping I can learn properly this time. If any of you know how to play guitar and have any advice please let me know.

1000Ab Challenge
Because I love a challenge, I decided to join this challenge by Blogitlates. Feel free to join me if you want.

Intermittent Fasting
A few months ago I experimented with intermittent fasting. At first, I thought it would be very difficult because I'm someone who wakes up hungry no matter how early or late I go to sleep but after a few weeks of fasting I realized it really improved my health because it regulated my sleep schedule and reduced my digestive issues. Back when I fasted, I only did it for 2-3 weeks so I'm challenging myself to do it for a month to see if it makes any changes to my body.

Posts I Loved
Putting me together, how to organize your life
The Pros & Cons Of Online Therapy/ Counselling Sessions
The Secret Power Behind Not Knowing What You're Doing
How To Utilize Instagram For Your Small Business
The 15 Best Vegan Deodorants To Keep You Smelling Fresh All Day
12 Brilliant Crochet Artists to Follow on Instagram
My Long-form Journalling Process

Posts From The Month
This January
Another Curly Girl Hair Haul ♥ Drugstore Haul + First Impressions
ColourPop X Animal Crossing Collection ♥ First Impressions + Swatches
My AM + PM Skincare Routine ♥ Winter 2021

How was your February?