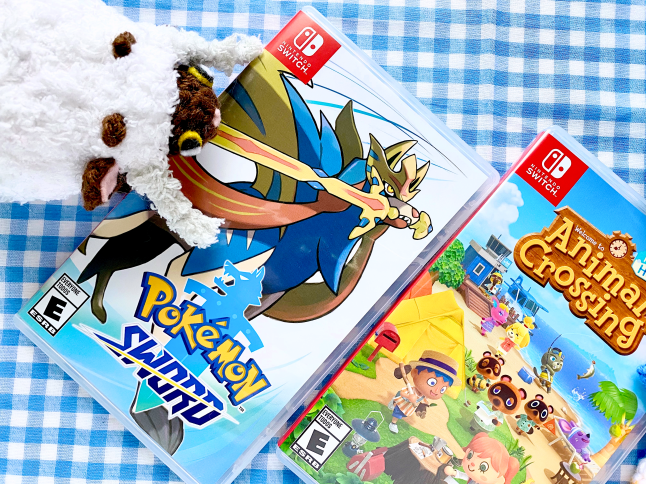 What happened this week
This week was very game-heavy. First, I gave my Nintendo Switch a kawaii makeover because I wanted it to be cute while I play Animal Crossing. Check out my latest video to see how I decorated my Nintendo Switch.

I also found my older sister a Nintendo Switch. She really wants to play Animal Crossing so she asked me to help her buy a Switch which is really difficult because everyone wants a Switch now! They've been selling out everywhere and when they are in stock they would sell out, I almost got one at Bestbuy but it sold while I was checking out! But, I eventually found her a Switch at Gamestop so we can play Animal Crossing together. As a thank you (and a very late Christmas gift) she gave me a copy of Pokemon Sword! So, when I'm not playing ACNH I will be playing Pokemon. haha

Speaking of, I FINALLY received my copy of Animal Crossing New Horizons! It's been almost a week after the game was released but it's better late than never! My town's name is Lavandula and my native fruit is peaches. The theme of my town will be lavender, I want everything to have soft tones of purple with hints of pinks. Now I'm off to go play Animal Crossing non-stop.
Current favorites
Watching: Frozen 2
Playing: Animal Crossing New Horizons!
Drinking: Dalong iced soy milk lattes
Eating: Spring Monster Trail Mix
Loving: Using my phone as a camera. I've been using my iPhone 11 to film all my videos and take pictures and I've been loving how they've come out. What do you all think?
Listening: Just updated my blog playlist with songs I really been loving at the moment. To listen to my playlist scroll to the lower left side of my blog homepage.
Excited for: Upgrade and expand my island on Animal Crossing.
Working on: Adding some more made-to-order items to my shop this weekend. If there is anything you would like to see let me know.
Quote: Right now, if you want to help the world just stay at home.

Now playing
[Mixtape: On Track] – [Stray Kids]
2:40 ──────♡─ 3:28