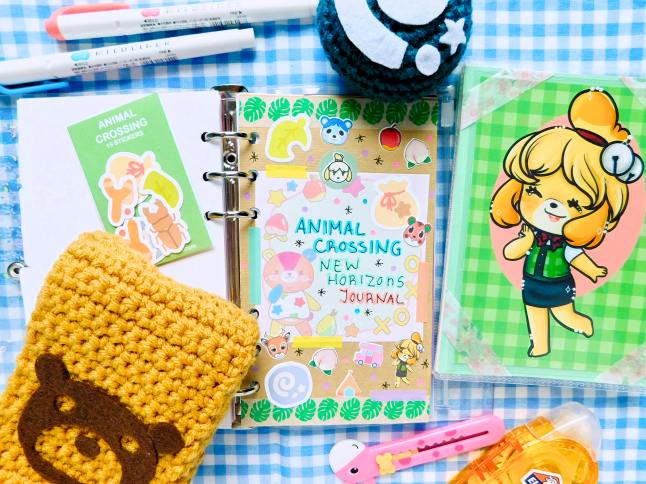 Welcome to Animal Crossing week! This Friday, Animal Crossing New Horizons will be released and to celebrate I will be posting some Animal Crossing content on my blog and Youtube. The video version of this post will be up on my channel tomorrow so make sure you are subscribed to be notified when the video is published.

For today's blog post I am giving you a look at my Animal Crossing journal spread. I'm using my PVC 3-ring journal that I bought at Artbox. I dedicate a section in this journal to Animal Crossing so I will probably make some more Animal Crossing pages in the future. Do you want to see more AC journal pages?
Want your own Animal Crossing item bag or fossil? You can order an Animal Crossing starter set from my shop.
I used this site to get the passport printable. By the way, that is my Nintendo Switch friend code so feel free to add me and leave your code below so we can add each other.

The Animal Crossing bag die cut is from HelloPaperCat. I used Animal Crossing stickers are from Fujibee and Animal Crossing stickers from Sprinkled Pug throughout my journal pages. I also used various washi tapes including a tropical leaf washi tape that I've had for a long time. It reminds me of the New Horizons leaf so I use that throughout my journal pages as well.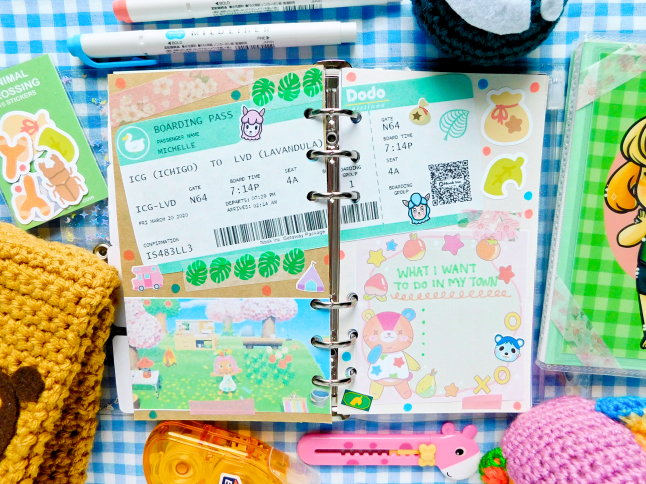 I printed out the boarding pass. The Stitches notepad is by NANAKYO. These pages are probably my favorite!
For the last pages, I printed out these Animal Crossing photos I found online. I used this Isabelle sticker from HelloPaperCat and printed out a photo on my HP Sprocket Photo Printer of some Animal Crossing items I crocheted.

Are you ready for Animal Crossing New Horizon?