I'm back with another crochet pattern! Today I'm showing you how to make a mini crocheted beanie paper clip. This is a very quick and easy pattern, ideal for beginners. You can whip up a couple of beanies in minutes! This would make a cute stocking stuffer or gift to someone who loves stationery.
Supplies
– G /4.25 mm crochet hook
– Worsted yarn (your choice of color)
– Slanted tapestry needle
– Scissors
– Hot glue
– Mini pom poms
– Paperclips
Aberrations
ch(s) – chain(es)
st(s) – stitch(es)
slst – slip stitch
sc – single crochet
blo – back loop only
(x_) – repeat _ amount of times
Crochet Level
Beginner
If you have any problems with this pattern feel free to reach out to me so that I can help you and make any corrections to the pattern.
Beanie
– ch 9, sc 8 sts. Total = 8 sts
– ch 1, sc blo 8 sts (x10). Total = 8 sts
Cut off and leave a long tail
You should have a rectangle piece now. Hold the piece half and sew the side to form a tube. Next, sew the top of the tube piece and pull to form a beanie. Weave in loose ends.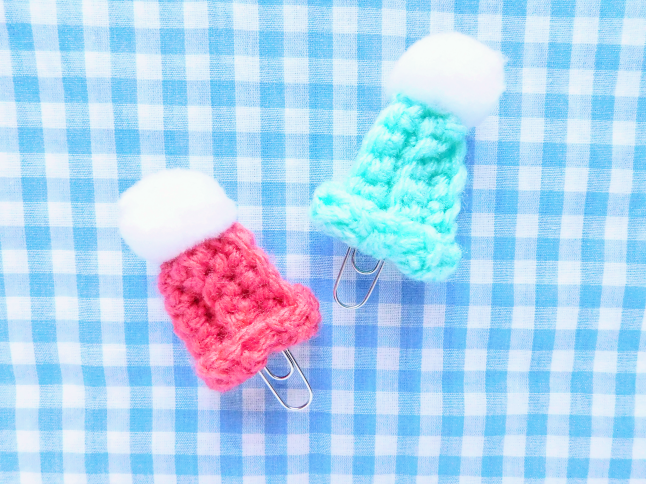 Assembly
With hot glue, add a dollop of glue inside of the beanie and add the paperclip. Add another dollop on the tip of the beanie and apply a pom pom. Next, fold the opening of beanie upwards to create the brim of the hat, you can glue, sew or leave as is which is what I did.
Happy Holidays!
Related Posts
Onigiri & Dango Pom Poms ♥ Blogmas
TWICE CANDY BONG Fan Stick ♥ Crochet Pattern
Latte Art Coaster ♥ Crochet Pattern
Handmade Gift Ideas ♥ Blogmas