I've been buying new skincare products to improve my skin for a few months now. Though I've bought other skincare products the most products I bought were Korean beauty brands. Today I'm sharing these products along with my impressions of the products, so far.
Innisfree Green Tea Balancing Cream
This is a really popular cream so I decided to check it out. It's really moisturizing! Perfect for autumn and winter but I think it's too thick for summer. When I first started using this cream I noticed it warmed up my skin, like a steam cream but after I started layering multiple products underneath the cream it wasn't as noticeable. I would purchase again.
Skinfood Aloe Vera Soothing Gel 93%
Ulta carries a couple Korean brands, one of them being Skinfood. I've tried Nature Republic's Aloe Vera Soothing Gel but was curious how Skinfood's aloe gel compared. Similar to Nature Republic's aloe gel it's soothing, absorbs quickly, refreshing, and cooling. But the consistency is too watery for me. I prefer the aloe vera from the Nature Republic because it's thicker.
COSRX Salicylic Acid Daily Gentle Cleanser
Foams up nicely. It can be a little bit drying if you lather for too long. I like to wash the cleanser off as soon as it foams up. Wouldn't recommend to those with dry skin.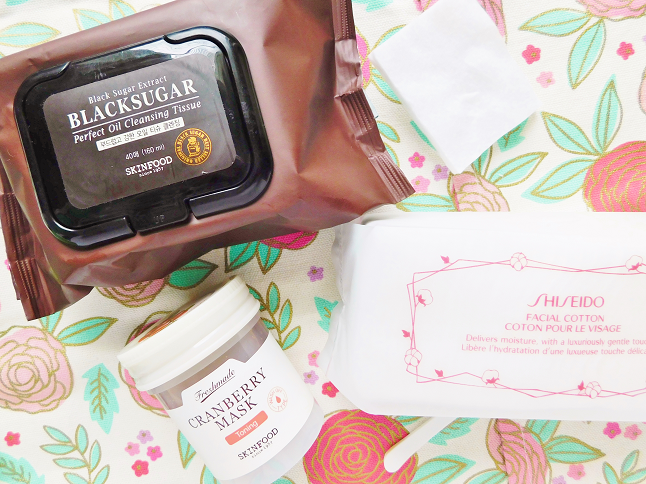 Skinfood Black Sugar Perfect Oil Cleansing Tissue
I found these on sale at Ulta which is why I bought them. I haven't tried too many wipes from Korean companies but I heard some decent reviews so I had high expectations for these. However, they're extreme oily! Wouldn't purchase again.
Skinfood Freshmade Cranberry Mask – Toning
These masks by Skinfood have been on my wishlist for a while so I was excited when I found out they were on sale. It's amazing! As I mentioned in my May favorites I use it as a sleep pack because it absorbs into the skin. The mask contains these tiny microbeads but they quickly dissolve when applied to the skin.
Shiseido Facial Cotton
I bought these thinking they were those multi-layered cotton pads that many K-beauty brands. However, I was wrong. These are easy to spread cotton that you can use to hydrate your skin. I like to drench these in the aloe vera gel and apply to my skin after a long workday.
Related Posts