Wow! Where did March go? It feels like it was just February just yesterday and now its April! I'm reflexing on all the goals I still haven't started yet. Anyways, today I'm sharing my monthly favorites. These are my most loved beauty and lifestyle items from the month of March.
At the beginning of the month my hair was brittle and would fall off very easily but with the help of a few new hair products, my hair has gotten stronger! I won't list every product that I used because that would take forever! However, I'll just mention the two products that I definitely changed my hair. Let me know if you would like to see an updated
hair care routine
.
Not Your Mother's In A Heart Beat Blow Dry Accelerator
You are supposed to use this after you've showered to help your hair dry faster but I've been using it as a heat styling protectant. Since using this I've noticed my hair isn't as weak and holds curls for up to days (note: I have naturally curly hair but still curl the bland sections). It also smells amazing!
Pacifica Coconut Super Power Deep Conditioner Damage Control Mask
Out of all the hair products I've been using I truly believe that this product has helped repair my hair the most. My hair feels softer, stronger, and overall healthier since using this hair mask. It is kind of pricey but they do sell
single-use versions
so you can try before you commit.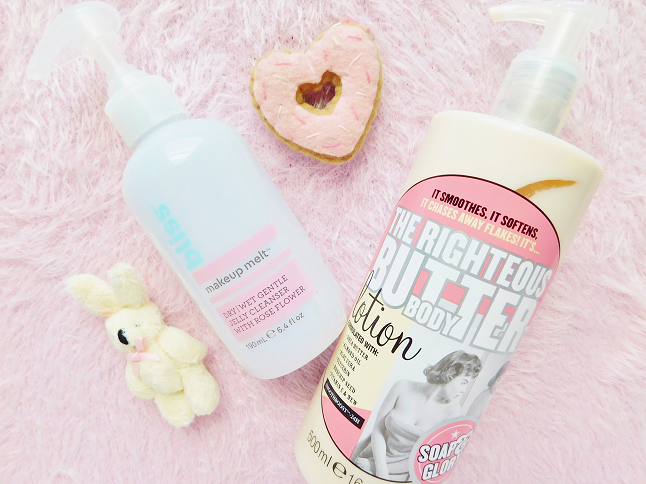 Bliss Makeup Melt Dry|Wet Gentle Jelly Cleanser
This cleanser caught my attention because the bottle it reminded me of the Glossier milky jelly cleanser. My skin is very picky when it comes to cleansers but so far my skin really likes this cleanser. It's gentle, soothing and not drying. If you have oily skin I think you would love this cleanser.
Soap + Glory The Righteous Butter Body Lotion
Moisturizing my body is my least favorite "beauty task" because it takes forever! However, this butter body lotion has made it more enjoyable for me due to the delightful aroma and quick absorption. I can see myself repurchasing this over and over again!
Unicorn Travelers Journal
I just bought
this Unicorn Travelers Notebook
at Michaels over a week ago but it made it onto my monthly favorites because it's one my favorite purchases of the month! Michaels has been stepping up their stationery game lately. When I went they had cutest planners, notebooks, washi tape, stickers, etc. I already have a Travelers Journal but I couldn't resist this journal! It has pink and gold details on the inside and pockets for other stationery goods. Michaels also has a bunch of other Travelers inspired notebooks and accessories so check them out if you are interested.
Starkooks Coffee Page Marker and Magnetic Bookmark
Every so often
Hello Paper Cat
releases some Kpop related stationery, which I just adore because of #kpoptrash. This adorable
Starkook Coffee
design was released in March and I just can't get enough of it! The page marker and bookmark have quickly become some of my favorite stationery items to use.
Stickyle Snoopy Keel Sticking Scissors
After posting
my Planner essentials
I realized that I was in desperate need of some planner scissors so a few days later I ordered
these scissors
. They make cutting washi tape so much easier!
LUNA Bar – Lemon Zest
I'm an active bar eater and constantly trying out new bars to try out. Last week I was looking for a new brand or flavor to try out and stumbled upon LUNA bars. I used to buy these in different flavors all the time but stopped because I wanted to try something different. My love for these bars has rekindled! Go try out something you used to love because you may still love it!
Related Posts