I wasn't sure if I had any favorites to share for the month of January but then I started thinking and one by one I started adding more and more things to my list of favorites. It's funny how that a couple months ago I had a separate favorites post for beauty and lifestyle items and now I struggle to even select a few items to feature in a joint post. It's not that I'm not trying new products it's just that I haven't tried anything that has blown me away enough to share. Let me know what products you've been loving in the comments.
Love Beauty and Planet Body Wash – Argan Oil + Lavender
My local Target started selling this new beauty line called
Love Beauty and Planet
. The line caught my eyes because of the beautiful packaging but after reading the bottle I learned that it's a vegan beauty brand! Their products are 100% vegan, cruelty-free, contains no dyes or parabens, come in recyclable packaging, organic, ethically scoured fragrances, and sustainably sourced, sounds amazing, right? I was in need of a new body wash so I bought the Argan Oil and Lavender scent. It's super fragrant and lathers well leaving your skin hydrated and smelling lovely. I'm really intrigued by this brand and will definitely check out more products from Love Beauty and Planet in the future.
China Glaze Nail Lacquer – Kill 'Em With Kindness
I saw this nail polish at Sally's Beauty Supply on sale for than 50 cents so I quickly picked one up because A. It's from the My Little Pony x China Glaze collection, B. It's a pastel color, and C. IT WAS 50 CENTS! The nail polish is a lovely pale yellow cream color that I can see myself wearing throughout Spring. I've been sporting this color since I've bought it and I'm obsessed with it!
Too Faced Clover Eye Shadow Palette
I received the Too Faced Clover Palette
for Christmas
so I've been playing with it as much as I can which isn't hard because it's the cutest palette ever! My most used shades are
I Ruff You
,
Cuteness Overload
,
#SaveThemAll
, and
Wet Kisses
.
Field Roast Miniature Corn Dogs
A couple years ago Morning Star used to sell these delicious mini corn dogs that I would buy all the time but sadly they discontinued them for whatever reason. However, Field Roast recently came out with their own version of meatless miniature corn dogs and my love for mini corn dogs has returned! The only problem is that these cost double the price of the Morning Star ones and they come with less than 10 corn dogs so I won't be buying these often just when I want to #treatmyself.
La Colombe Draft Latte
Someone was raving about these canned coffees on Twitter so when I spotted them I picked one up and they're definitely yummy! These would be perfect on workdays when you're running late because you can quickly toss one into your bag. There are also more flavors but the original one is my favorite.
Weetabix Original
I follow a lot of European bloggers and vloggers and every now and then I would hear about Weetabix but had no clue what they were referring to so googled and it's cereal, well kind of. I checked on Amazon and two days later they were in my hands. So for those who are like me and have no clue what Weetabix are, they're basically these wholegrain "cereal-like" bars that you can pour milk or yogurt and use as a cereal or granola. Here in the states, we don't have anything similar to this product (at least none that I know of) so this concept fascinates me. I've been eating my Weetabix with a splash of almond milk, a little bit of maple syrup and fresh fruit (sometimes I add some dairy-free yogurt). How do you eat your Weetabix?
Cute Cat Canvas Zip-Up Pen Pouch
This pouch has changed my life! I keep it open and unzipped on my desk supplied with my favorite writing utensils. Before this pouch, I kept my most used pens in a closed pencil case under my desk (the keyboard area) but displaying them out in the open is more accessible. If you're curious as to what I keep in this pen case check out
this post
.
Style Savvy: Styling Star
I'm a huge fan of the Style Savvy series I played
Trendsetters
,
Fashion Forward
, and now Styling Star. In the game, you run a small boutique and dress the citizens in your town for special occasions. It's such a cute game especially for those who adore fashion games. I've been glued to this game ever since I downloaded it but have yet to complete it but when I do you can expect a full review.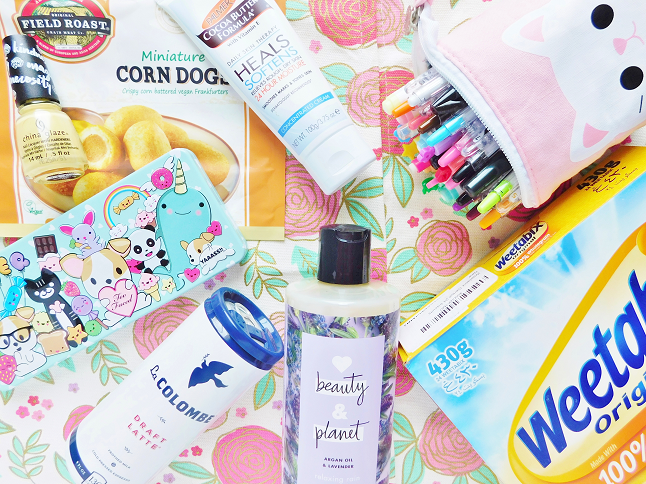 Related Posts