As you guys know I love stationery and probably have more than I need but I can't help it I adore stationery! I've shared
my planner clips
before and wanted to continue the share my stationery collection this I am showing my washi tape collection. My washi tape collection is pretty small (at least I think so) and can fit in an old Birchbox but I love my washi collection!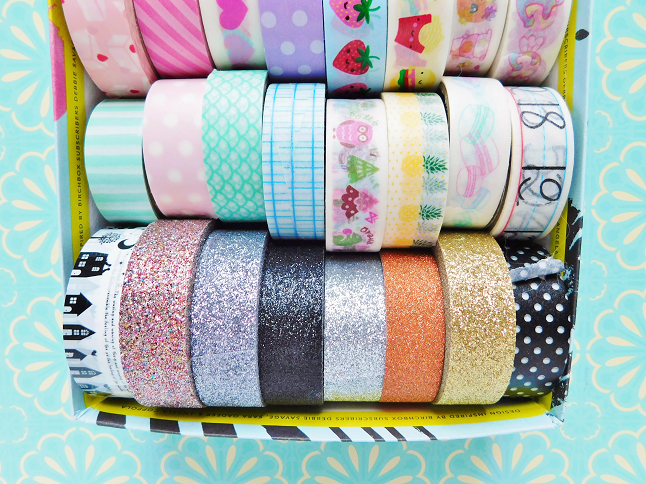 I tried to organize my washi box as much as I could but somehow it still doesn't look like it. The first and last rows are the most organized. The box if you are wondering is from a past Birchbox.
Starting with the bottom roll I have a bunch of glitter washi tape most are from sales but I haven't used these too much yet. I also keep washi that contains the most amount of tape on this roll. On the second row, I have a bunch of random washi tape but this row I keep my washi that contains less washi.
The next row is the cute washi! I mean I have a bunch of cute washi but this row is my personal fave. All of the washi is from various places such as Target, Etsy, Michael's, etc. Finally the last row, I keep my smaller rolls of washi tape and the remaining thin washi that I have leftover from a previous set.
I have many rolls of thin colored washi tape. They sell these rolls of thin washi at Michael's Craft Store they have different colored set, I have the pastel and primary-colored ones. I only bought the primary ones for the black roll I rarely use the other ones. haha
My latest two rolls of washi tape are from
Hoshi Island
. She has the cutest washi tape! Look at that pumpkin spice latte washi!
Related Posts