Marie from The Aristocats is one of my favorite Disney characters, I love her sassy cuteness. Over the years I've collected a couple Marie items so I thought it would be fun to share some of my unique Marie items with you guys. Leave your favorite Disney character in the comments!
Marie Ears
I ordered these via eBay a couple years ago but it was so long ago I don't remember what seller. This is an exclusive headband that you can only find in Tokyo Disney so they are tricky to find if you don't live in Japan (I'm not even sure if they still sell them). I've worn them a couple times to the Disney parks and I always feel super cute when I do!
Marie Key Chain
Another Tokyo Disney item. This was an impulsive buy that I bought from a Japan Disney seller through Instagram. I wish the Disney parks in the US would sell plush key chains like this because they're so adorable!
Marie Plush
My older sister bought me this Marie plush when she visited Disney World with her high school chorus group a long long time ago. This is the first Maire item I ever received.
Marie Tsum Tsums
Here are my two adorable Marie Tsum Tsums. I have the original Marie Tsum Tsum and a dressed-up Marie which is from the Minnie Mouse and Dressy Friends box set.
Marie ID Pouch
This is another Tokyo Disney item (I think?) it's a Marie ID holder with a pouch. On the back, there is a spot for your ID or other cards and a zipper pouch that you can use to store small slim items like money or chapstick. These are really popular in Tokyo Disney they have one for pretty much every character. It's a cute and practical idea to store your money in if you don't want to take any bags with you to the parks.
Marie Socks
These socks are from Target. They came in a set of 3 with other Disney characters printed on the socks. I wear these so often I'm scared that I may rip them soon.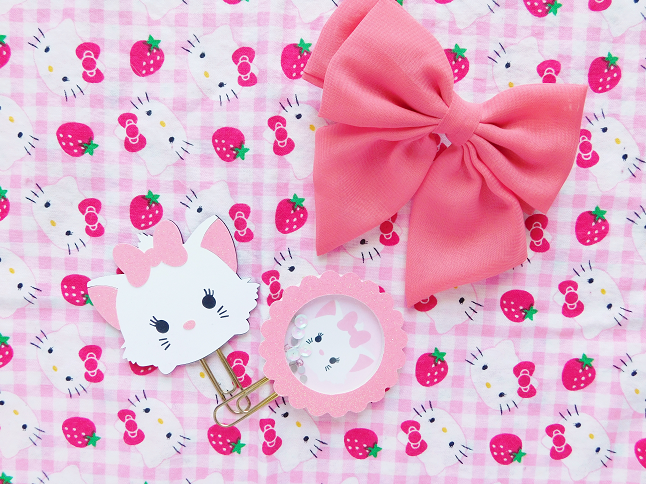 Marie Planner Clips
I bought these planner clips on Etsy sadly the shop where I got these from is no longer is around. I have plenty of planner clips but the Marie shaker clip is my all-time fave!