August is here, which means it's time for a roundup of my favorite beauty products that I discovered in July. I tried lots of new products last month so I have a handful of beauty goodies to share this month.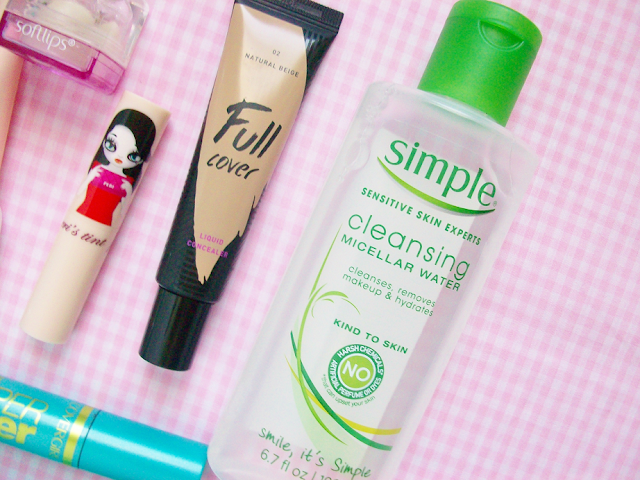 Aritaum Full Cover Liquid Concealer
This concealer literally covers everything! Any imperfect blemishes that I may have on my face that day can be covered up by this liquid concealer, it also conceals dark circles pretty well.
Simple Cleansing Micellar Water
I've been using
micellar water
at night to remove my makeup. The reason I love this stuff because it's lightweight yet hydrating. It can even take-off stubborn waterproof mascara!
Soft Lips 5-in-1 Pomegranate Blueberry Lip Cube
I bought this lip cube before leaving for Mexico and I've been using it every day since! It's in the form of a cube so it's fun to pop out and apply in public.
Etude House Tear Eye Liner
I've been using shimmer/liquid glitter liner under my eyes to create an aegyo sal eye look. The only downside is that it's not waterproof, which is a problem for me because I have very watery eyes. Review
here
.
Peripera Peri's Tint
This two-in-one hydrating tint and lip balm are incredibly fun to use! I have the
Peripera Peri's Tint Sky Stick
and it's so fun to use because it's supposed to change depending on your mood, like a mood ring. I actually did experience a different shade every time, the colors range for a rosy pink to a hot pinky red shade.
Covergirl The Super Sizer Mascara
What's cool about this mascara is that you are supposed to twirl it as you apply to create volume! With the twisting motion, you separate your lashes and get lifted eyelashes. I really enjoyed this mascara, I might get the waterproof version next!
Innisfree Jeju Sparkling Mineral Mist
I try to keep my face hydrated as much as possible during the summer. That's why having a mist handy is a summer essential. Whenever I need to refresh my makeup I whip this out of my purse and spritz 1-2 sprays over my face. You can see a full review of the Innisfree Jeju Sparkling Mineral Mist
here
.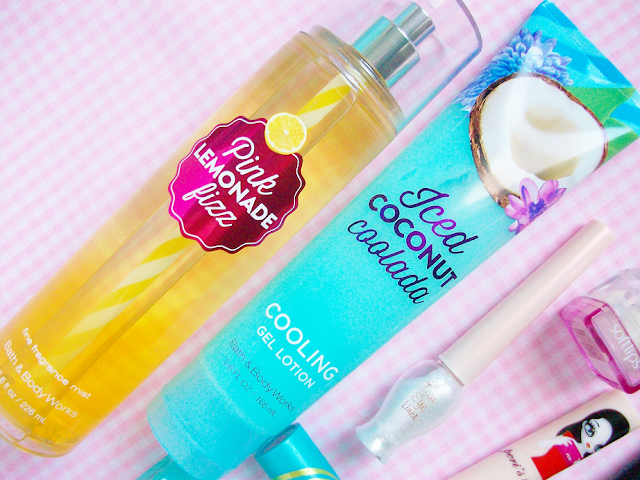 Bath and Body Works Pink Lemonade Fizz
Bath and Body Works summer line is simply amazing! I picked up a few products last time I was there and the packaging and scents just fit in with summertime perfectly. This fragrance mist smells exactly what a pink lemonade fizz would smell like. Love how they added a straw spray pump, so cute!
Bath and Body Works Iced Coconut Coolada Cooling Gel Lotion
Finding a staple lotion can be difficult. There are various lotions with each one claiming different I've probably tried hundreds of body moisturizers but this gel lotion by Bath and Body Works is a miracle product! It has a gel consistency, which makes it easier for the lotion to sink into the skin. It also has a wonderful coconut aroma.
What beauty products did you favor in July?