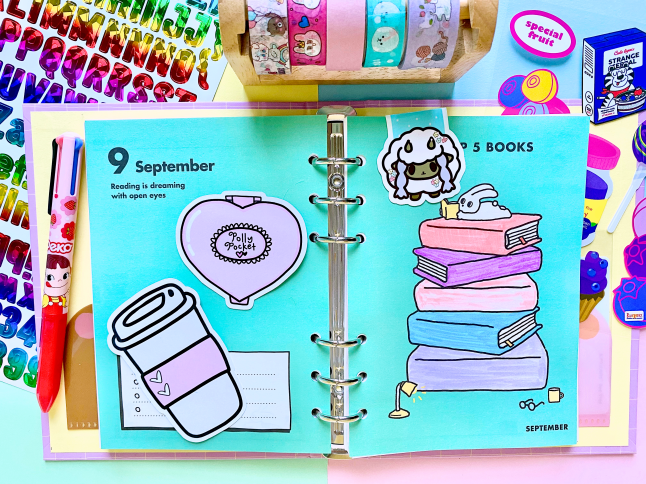 September was a crappy month for me. It started off strong with me full of positivity but around the second or third week, I just started to feel really down. It may be due to the fact that this time last year I was traveling to Paris and I was getting everything ready for my move to Seoul with hope for a new journey, fast forward to this year everything is ruined due to the COVID. I feel like I'm back in an empty tunnel with no light in sight. Trying to stay optimistic but it's been a rough month.

What I watched
V Live
I didn't watch anything new in September, at least not anything that is worth mentioning. I did watch a lot of VLive. For those who don't know VLive is a popular app that many K-pop idols to stay in touch with their fans, it's basically IG Vlive but more organized. I caught up on some of my favorite groups like GOT7, DAY6, Monsta X, and SuperM. I've been struggling to try to keep up with what my favorite boys are doing but I feel like I'm catching up slowly.

Daughter of Old
I discovered this Youtube channel and the videography s beautiful! It gives me Sleeping Beauty Aurora in the cottage vibes. She also has another channel that may interest those of you who are into herbalism it's called The Green Witch.

What I Listened
SuperM – Tiger Inside
After listening to the entire SuperM album this song is still my favorite. Also, the choreography for this dance is so amazing! Also, Taeyong with his ponytail is so precious!

DAY6 (Even of Day) – Where the Sea Sleeps
This song was stuck in my head for days after I listen to it the first time! The music video is also really adorable because it's an animated music video that features the adorable Denimalz and it almost made me cry.

TAEMIN – Criminal
Ugh! Why is Taemin so amazing! I swear Taemin is one of those performers where you can just feel the passion from his performances. I also want to suggest you to listen to his entire album because there is a lot of amazing b-side tracks like Clockwork which was one of my favorite songs from the album.

The Rose – Black Rose
If you don't know what's happening with The Rose and their former company you should read up on it because it's very disheartening. The Rose is so talented and they deserve the best! You can follow them on Twitter or Instagram to stay updated on their future releases.

Stray Kids – Back Door
I'm trying very hard not to stan Stray Kids but they keep reeling me back in! I'm only saying this because they were all born in the 2000s and that makes me feel sooooo old as someone who was born in the early 90s'. With that being said, I'm such a fan of Stary Kids songs because they're so energic and upbeat and those are my favorite type of K-pop songs.

EVERGLOW – LA DI DA
My current earworm! This song has that '80s flare that I have yet to hear in any other K-pop songs. I really hope EVERGLOW gets attention after releasing this song because they deserve it.

What I Bought
Halloween decor
You'll probably see these in my Blogtober photos throughout the month of October. I can't wait to decorate my room for Halloween!

LucaLab journal
Back when I was in Seoul I accidentally bought a few inserts by LucaLab not knowing they only fit their archive 6-ring journal. Thankfully, I joined a LucaLab group order online and was able to place an order and finally get an Archive journal. I even filmed a haul which you can watch here.

Jelly Love Club
My first order from Jelly Love Club. Caleigh teased some of the items from her shop in August and I was finally able to purchase some of the items this month! Her designs remind me of those cute indie stationery shops you can find in Seoul. Watch my latest stationery happy mail to see what I bought!

Things I Love
Support after a rant
After I ranted about people trying to take credit for all the work I put into my crochet patterns I got a lot of support from a lot of people. Thank you to everyone to reach out to me to see how I was doing. After already having a crap month this was the last thing I needed. Sometimes I fear speaking up because I feel like people might interpret it a wrong way or whatnot but I'm glad I spoke up about it. Thank you if contributed to my Ko-fi. It really means a lot to me.

Last months goals
Start filming Youtube videos again – CHECK

Exercise regularly – I started off strong but eventually failed at this goal. I gave up around the second or third week! haha

Sleep – FAIL

Goals for next month
Successfully complete Blogtober
Yes! I will be participating in Blogtober yet again this year! For those who don't know, Blogtober is where I featured spoopy Halloween-related content all for the month of October. Not everything will be related to Halloween but I do have some autumn/Halloween and will feature photos to fit the mood. My blogging schedule will remain the same Monday, Wednesday, and Friday. I hope you're all excited as I am!

Autumn activities
Autumn is such a lovely time of year to do many autumn-themed activities. I may or may not be posting a list of things I want to this autumn during Blogtober.

Posts I Loved
What to Cook When You Don't Feel Like Cooking
Getting Out Of The 'Book-Reading Funk
What 2020 Has Taught Me About Living in the Moment
My Autumn Bucket List 2020

Posts From The Month
This August
My First LucaLab Haul | Korean Stationery
How to Improve Your Crochet Skills ♥ Crochet Tips
DAY6 Denimalz Garland ♥ Crochet Pattern
My Journaling Essentials
My Journaling Essentials | With Soft ASMR
Lovely Things 3
Happy Stationery Mail | Jelly Love Club, Stxrlightstudio, & Fujibee
Pretty Perfect Interview Questions

What did you do in September?