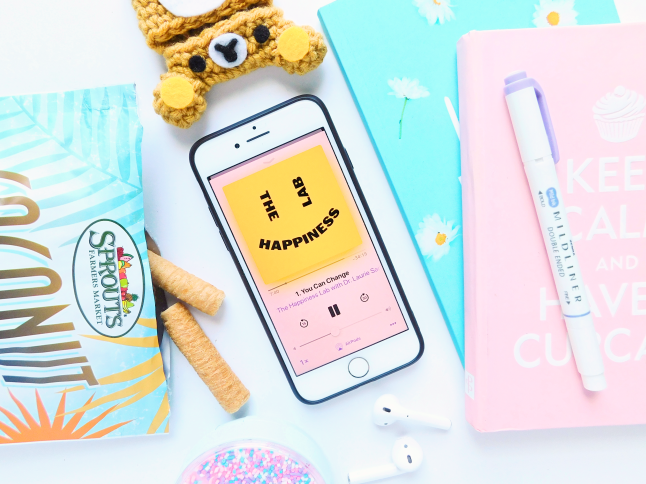 It feels like I'm always listening to podcasts. When I'm tired of music or feeling a little lonely I pop on podcasts to comfort me. Almost a year ago, I shared
my top 5 favorite podcasts
but since then I've discovered more new podcasts, so I think I may have to post an update soon! Today I'm going to break it down and share 4 of my favorite podcasts that I listen to when I want to feel inspired and motivated. These podcasts have been extremely impactful to me in the past couple of months and I really think they could help some of you who may be feeling down.
On Purpose
One of my favorite podcasts to listen to when I'm feeling uninspired or unmotived is On Purpose with Jay Shetty. Jay talks about how you have the power to change and better your life in his podcast. He interviews insightful people on their journeys to finding their purpose in life. Most of the guests he has had on I've never even heard of but I find their conversions very inspiring. Some of my favorite interviews have featured his wife, Chrissy Metz, Dr. Oz, Dan Buettner, and Ben Leedle, and Marie Forleo.
Favorite episodes: 3 Myths About Manifesting Your Dream Job and 3 Ways to Start Doing It Right, 7 Things to Do This Weekend to Boost Your Mental Health, and 6 Reasons Why It's Never Too Late To Quit and Start Over
The Happiness Lab
A few months ago I took the Science of well-being course online, taught by Laurie Santos, the host of
The Happiness Lab
. When I heard she was coming out with a podcast talking about happiness it definitely sparked my interest. The podcast explains the science behind being happy and explore whether we can improve our happiness. Since this is a new podcast there is only one episode up at the moment but I can't wait to listen to more episodes in the future. If you're interested in this podcast I highly recommend signing up for the science of well-being course online
here
. It's really facilitating!
The Goop Podcast
One of my guilty pleasures is Goop. I find their articles to be intriguing. When I saw that they had a podcast, The Goop Podcast, I was was also drawn to it. The topics range from women's health, spirituality, women in the workplace, motherhood, nutritional, mental health, creativity, etc. Love Gwyneth Paltrow interviews but the other episodes with Elise are just as informative and inspiring.
Favorite episodes: Gwyneth x Oprah: Power, Perception + Soul Purpose, The Anxious Mind, How Do We Heal from Depression, Why We're Not Broken, and Why Fear Can Be Magical
The Boondocks
One of my favorite Youtubers, High Carb Hanna, and her husband have a podcast called The Boondocks, they talk about their experience being vegan social influencers, their journeys with the law of attraction all whilst living in the boondocks. They haven't posted a new podcast since June but I'm hoping that they'll return soon because I really enjoy listening to them.
Favorite episodes: Law of Attraction + Manifestation and Diving Deep Into The Law of Attraction.
What's your favorite podcast to listen to when you want to be inspired?
Related Posts