I have a difficult time swallowing pills so I take chewable, meltable or gummy vitamins. Back in the day when I first became a vegetarian, there weren't that many non-pill options so if I needed to take a pill I would mash the pill. Thankfully, there are so many options now so you can take your supplements without feeling sick. I also explain a little as to why I took certain vitamins because if any of you are suffering from a certain problem I would recommend you do some more research on said vitamin.
All of the vitamins and supplements in this post are also vegetarian and vegan-friendly because if you didn't know I'm vegetarian and in the process of going vegan one day so I would like to be one step ahead by having vegan vitamins.
These products were bought with my own money and I wasn't sent any of these for free or to review. All opinions are my own.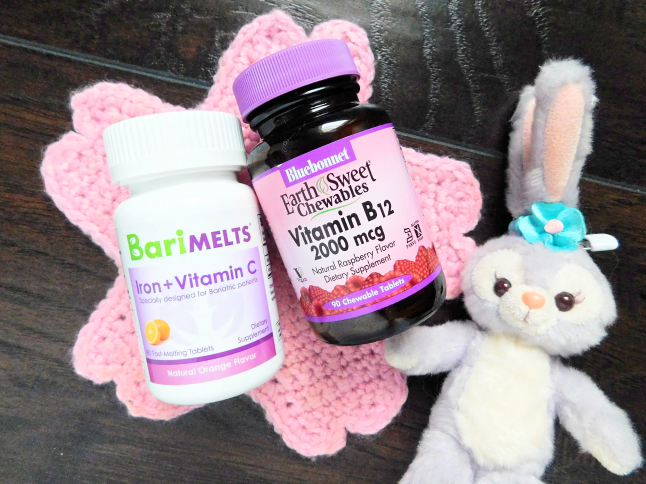 BariMelts Iron + Vitamin C
About this time last year, I got bloodwork done and found out that I have iron deficiency anemia. Which explained why I would get really exhausted for climbing stairs or doing ceratin workout moves. I'm young and pretty healthy so I don't need to be feeling this fatigued at my age. I haven't gotten my blood checked since last year but I can feel definitely tell from doing those certain work out moves that I don't get as tired as I use to before. Since taking
these vitamins
I haven't felt as fatigued as before.
Bluebonnet Earth Sweet Chewable Vitamin B12
This an essential vitamin
to take if you're vegetarian or vegan because your body doesn't produce B12 and B12 is mainly found in animals like meat and eggs which I obviously don't take. If you're a vegetarian or vegan and don't take B12, well you should.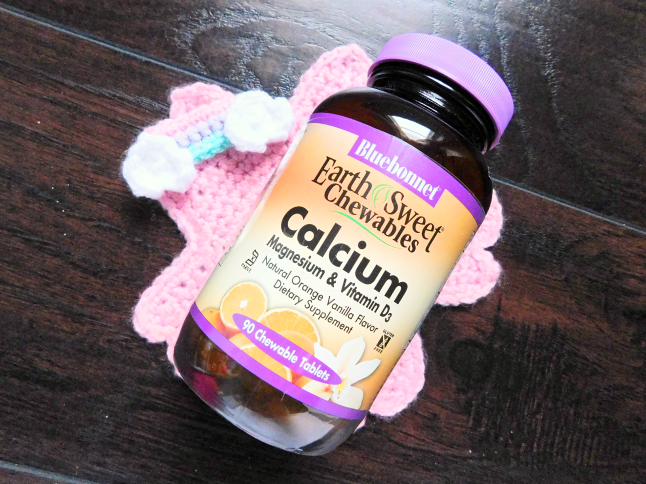 Bluebonnet Earth Sweet Chewable Calcium Magnesium, + Vitamin D3 Dietary Supplement
One thing you should know about me is that my bones are very fragile! They literally crack every time I move and they make a very alarming sound. After researching online I found that I might be lacking calcium, my calcium levels weren't that low on my blood chart but not at a normal level either so I decided to start taking calcium regularly.
I found these on Amazon that contains calcium, magnesium, and vitamin D, all three are ideal for improving bone health. The taste is a bit chalky but they aren't bad, plus vitamins aren't supposed to be tasty but they're worth taking if they can improve your health. Since taking these, my bones still crack often but not as much as before and I don't feel any pain from the cracking anymore so I'm hoping that I'm tackling this problem.
Yuve Vegan Probiotic Gummies
In the past. I would get super painful stomach cramps and when I visited the doctor they never found anything wrong with me and told me that it was probably due to stress, I went to two different doctors and they told me the same thing. Finally, I decided to do my own research and though I can't comfim I think I may have IBS. I read that probiotics can help with IBS so I bought these vegan probiotic gummies.
Probiotics help with gut problems which is why since adding these probiotic gummies to my vitamin routine I haven't had any stomach issues! Probiotics can also be found in food that contains good bacteria such as fermented foods and yogurt. Before I cut out yogurt entirely from my diet I would consume so much yogurt (it was my favorite go-to snack) so I didn't have any stomach issues 10 years ago but the past 2-3 years that I've stopped eating yogurts my stomach pains have become really bad to the point where I couldn't stand up.
Anyways, I'm glad that I've added probiotics to my routine because now I don't get painful stomach aches and don't have to worry about getting an episode during work.
Vicks ZzzQuil PURE Zzzs De-stress Sleep Melatonin + Ashwagandha Gummies
I often have trouble sleeping at night so I like to keep some melatonin gummies by my nightstand on nights when I can't naturally shut off for the night. The first time I took these I was out! 30 minutes before bedtime I take one gummy and I'm out like a light! They have a few different versions but I've only tried the original and these de-stress, I haven't noticed any difference between the two.
They're also non-habit forming and don't make you feel groggy the next morning. They don't contain any gelatin either! Which is so cool that a huge company like Vicks is making gelatin-free gummies.
What vitamins do you take daily?
Related Posts
How I Use Aromatherapy ♥ Diffuser + Essential Oils
Vegan Food ♥ Taste Test
30 Days Of Yoga ♥ Fitness Friday
5 Ingredient Banana Pancakes ♥ Vegan Recipe