I haven't posted a monthly favorites post since last year! Can you believe that? I used to look forward to writing these posts every month but I just lost interest. To be honest, when I love ceratin beauty products I continue to repurchase them instead of buying new products. When I do purchase new products most of them aren't worthy of being featured in a monthly favorite which is why I haven't posted one in months. But I think it's been long enough so today I'm sharing some beauty and lifestyle items that I've been loving the past couple of months.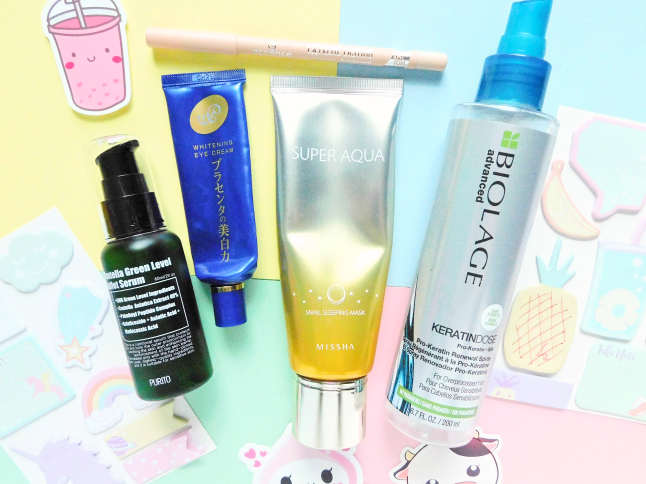 Essence Extreme Lasting Waterproof Eye Pencil – Silky Nude
When I was recently at Ulta I wanted to nude pencil to use on my waterline to make my eyes look awake but didn't want to spend too much so I picked this one by Essence (they make my favorite mascara) which was less than $3. OMG! This stuff stays on! I have very watery eyes so most liners don't stay on me all day but this did! I would highly recommend this eye pencil if you are on the market for a waterproof nude eyeliner that's affordable and from a cruelty-free line. Next time I'm going to pick up more in different colors.
PURITO Centella Green Level Buffet Serum
Back in March, I made a
first impressions post
on the Korean brand, Purito. Since then, I've used several products from them but one of my most favorites was their Centella Green Level Buffet Serum. I've noticed my skin inflammation hasn't been as bad as it used to be and my skin texture is also smoother.
Meishoku Medicated Placenta Whitening Eye Cream
On Twitter, I saw someone raving about this eye cream so I decided to purchase it to test out for myself. It's really hydrating and reminds me a lot of the
Elizavecca eye cream
(my holy-grail eye cream) but this one is more moisturizing! My dark circles also didn't look as bad as they use to. Just note that you only need a tiny amount because a little goes a long way.
Missha Super Aqua Cell Renew Snail Sleeping Mask
Sleeping masks are some of my favorite
skincare extras
to use at night (because using a sheet mask every night isn't "extra" enough. lol). One of my favorite beauty blogs
The Klog
, recommends this sleeping pack in one of their posts and I bought it right away because it was inexpensive. It's hydrating and absorbs quickly without leaving a sticky residue.
BIOLAGE Advanced Kertaindose Pro-Keratin Renewal Spray
My younger sister recommended me this product to me because I've been dying my hair a lot recently and wanted a product that can repair my fragile hair. It's a spray that repairs and protects your hair. I use it as a leave-in conditioner after I wash my hair. Thanks to this spray my hair has gotten stronger and I've noticed that my hair doesn't fall off as much as it uses to.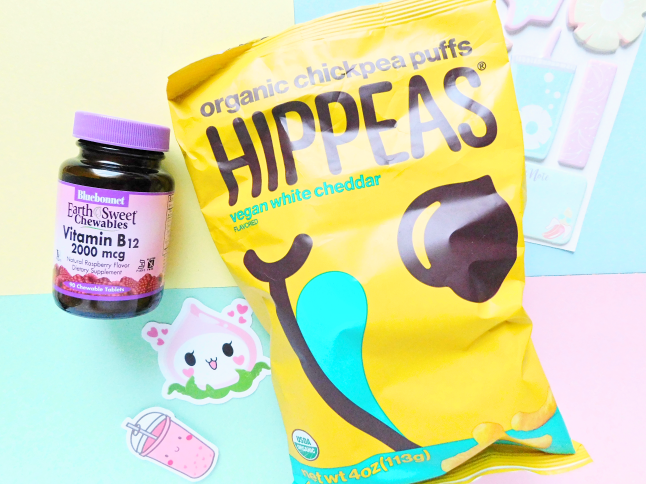 Bluebonnet Earth Sweet Chewables Vitamin B12
I have a difficult time swallowing pills. Thankfully nowadays they make tons of alternatives to make vitamin taking more easier. B12 is an essential vitamin to take if you don't eat meat which is why I always make sure to take them. I've tried other B12 vitamins in non-pill form but I really like that Bluebonnet vitamins are affordable. I was actually thinking of making a blog post on vitamins that I take but not sure if that would be boring or not. Let me know if you would like to see that.
Organic Chickpeas Puffs Hippeas Vegan White Cheddar
I was always curious about Hippeas because I heard they were vegan and Starbucks always seems to have them displayed. I finally caved in and decided to try a bag. I posted on Instagram that I thought they were just alright but since then I've bought 3 more bags! I really love them! They are denser than your average cheese puff and kind of look like baby fingers (lol) but they're addicting!
Baymax Humidifier/Scent Diffuser
As much as I love Lucy (but the show but my pomeranian) she doesn't always smell the best. She goes outside to poop and pee all the time and brings in those smells from the outside with her. I love lighting up candles but I wanted something that can cleanse the air and leave on at night which is why I started using a scent diffuser. My mom has two diffusers in the house and they make the house smell so nice! I bought
this Baymax humidifier/diffuser
for my own room. My favorite essential oils to use are lavender, lemongrass (makes your room smell like a LUCH store!), and eucalyptus.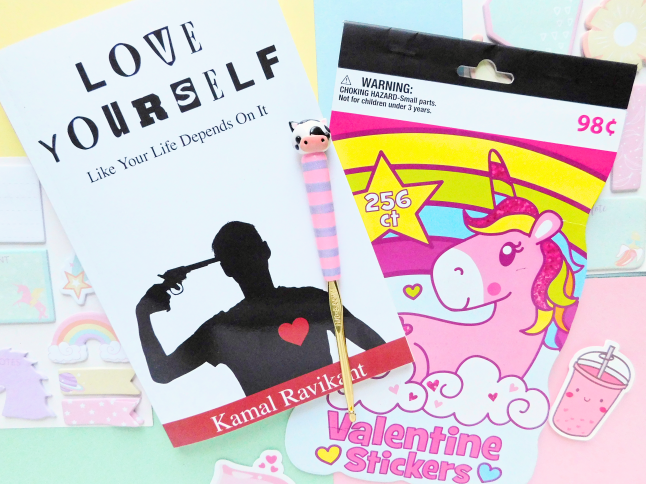 Love Yourself Like Your Life Depends On It – Kamal Ravikant
One of my favorite self-help books I've read this year is Love Yourself Like Your Life Depends On It by Kamal Ravikant. It's a really quick read (it's only 60 pages) but learned so many things from this book that I've been practicing daily. I highly recommend this book for anybody who wants to love themselves more.
The Clay Bean Co Cow Crochet H Hook
A few months ago I contacted
The Clay Bean Company
to custom make me a cow crochet hook. I choose pastel pink and purple stripes because those are my brand's colors and a H/4,25 mm hook because that's the size that I use the most. I love this hook so much and definitely want more!
Unicorn Valentine Stickers
A few days after Valentine's Day I went to Walmart for something. I usually avoid Walmart but once in a while, I go because Walmart has some essentials that Target doesn't. Anyways, I checked the sale section after Valentine's Day and found this cute unicorn sticker book that was only a few cents! There are pastel and holographic stickers inside and they're insanely cute! I wish there were more sticker books because I would've bought more.