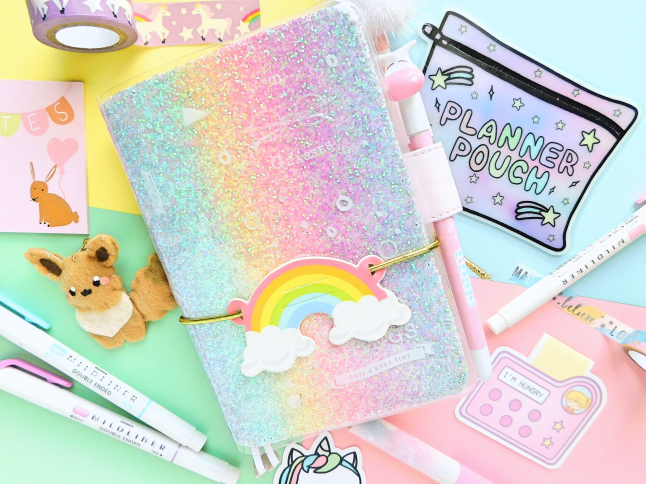 Ever since I posted the first photo of my Hobonichi I've received a few messages asking to show you guys and talk about it and that's what I'm doing today!
For those who don't know what a Hobonichi is, it's a Japanese daily journal. I was inspired to buy one because
Rainbowholic
uses one and always posts videos of her Hobonichi Techo. Since I already have tons of planners and journals I decided to search for a Hobonichi dupe to see how often I use my
faux
Hobonichi before I commit to an authentic Hobonichi.
The Hobonichi dupe I use is the
Stalogy
, it's an A6 size notebook with grid paper enough for 365 days. The
adorable glitter rainbow cover
and
clear cover
are both from eBay. As you can see the clear protective sleeve has a few scribbles that aren't as visible in person but they show up really well on photos. The rainbow band is from a
stationery set
that I bought from Michael's Craft Store.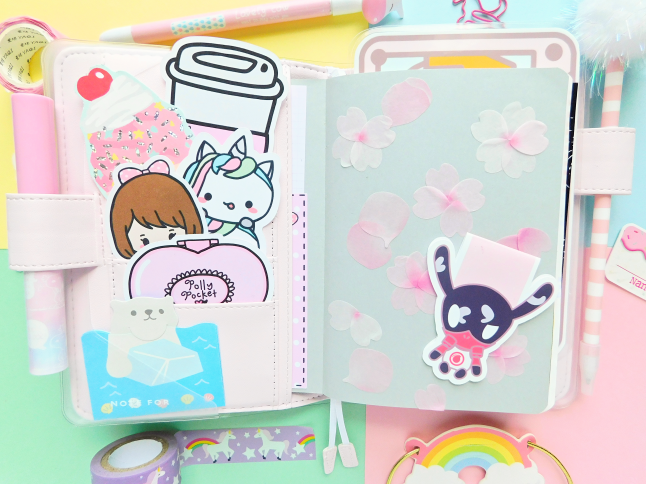 Inside I keep cute inspirational things like die cuts, notes, and bookmarks. On the pen flaps, I keep washi tape scissors and my most used pen at the moment. For the sake of this post, I used a cute pen. haha
Most of my pages in my Hobonichi are personal but I'll share a few that aren't that personal with you guys. I've been buying more A6 size dashboards to use as page markers.
Here are two more pages in my Hobonichi. One thing that I don't like about the Stalogy is that the dates aren't that visible. The original Hobonichi keeps the dates on the top left corner which I prefer.
On the back, I keep a few more notes and die cuts. And that's it. If you would like to see more Hobonichi flip throughs let me know.
Do you have a Hobonichi?
Related Posts