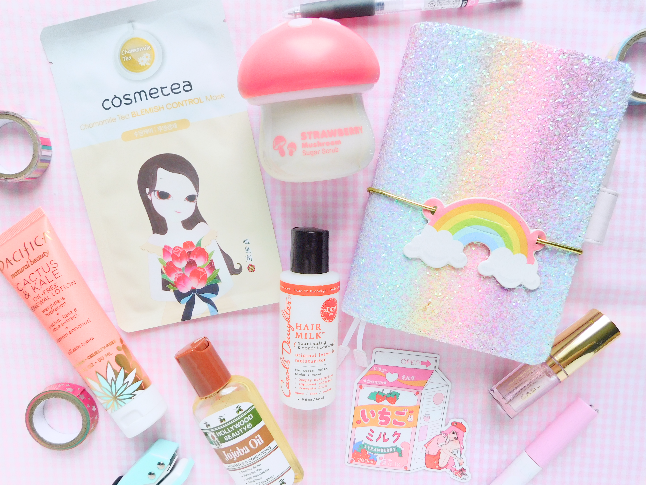 Another new month means another new set of monthly favorites. Most of these products have something to do with my trip to Flordia so I reference that a lot in this post. haha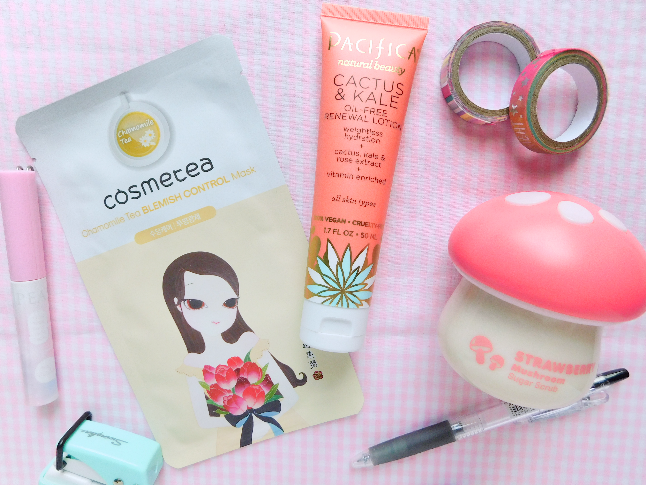 Cosmetea Chamomile Tea Blemish Control Sheet Mask
Before I went on my trip to Florida I went on a hunt for sheet masks because I had just run out and needed to restock. I found these at Marshall's for around $10 so I bought them because I've heard of the brand before and the packaging is cute. The material is made of 100% natural cellulose mask, it doesn't fall off your face. The essence is very rich which really hydrates my skin. Whenever I use this mask my skin feels so smooth the following morning.
Pacifica Cactus + Kale Oil-Free Renewal Lotion
I forget to bring a moisturizer with me on my trip so while we were at Target I bought this one by Pacifica because it was on sale (I later found out it wasn't on sale, lol). At first, I didn't like it because it felt too thick but it's really moisturizing! This would be better suited for autumn/winter than summer.
Tony Moly Strawberry Mushroom Sugar Scrub
My older sister got me this Tony Moly scrub for my birthday. It smells and tastes amazing! The consistency is really thick and gooey and the beads don't completely dissolve which worried me at first but splash a bit of water and lather and you get a nice exfoliation.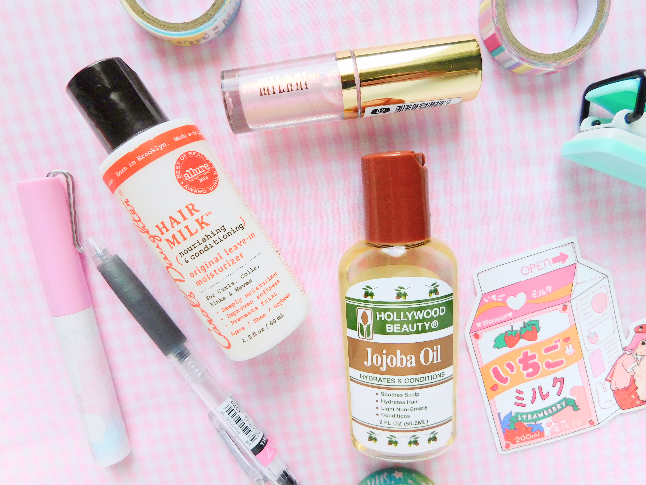 Milani Hypnotic Lights Holographic Eye Topper – Luminous Light
If you've read any of my makeup routines or
what's in my makeup bag
posts then you know that I'm a fan of the aegyo-sal style look. I've been using one by Etude House for a few years but I needed something new. I saw this at Ulta and was quickly draw because of the sparkle (Yes, I'm a goldfish). It's a milky glittery liquid. You can use it as an eyeshadow or even highlight but I use it on the lower inner corner of my eyes to create that aegyo-sal effect.
Carol's Daughter Hair Milk Orginal Leave-In Moisturizer
On my trip, I also forgot to bring a leave-in moisturizer with me so I bought this travel-size hair milk. I've seen this brand before but never used any of the products before. It has a pleasant clean scent. This hydrates my curls leaving them soft and not crunchy. I would purchase the full-size.
Hollywood Beauty Jojoba Oil
Someone I follow (I literally forgot who, like I said I'm a goldfish!) mention this on their Instagram story saying how amazing it was for repairing damaged hair. I have really damaged hair so I decided to try it and it's amazing! It's really helped replenish my hair and it' also gotten stronger. The bottle may be small but I still have a lot left, I use it twice a week.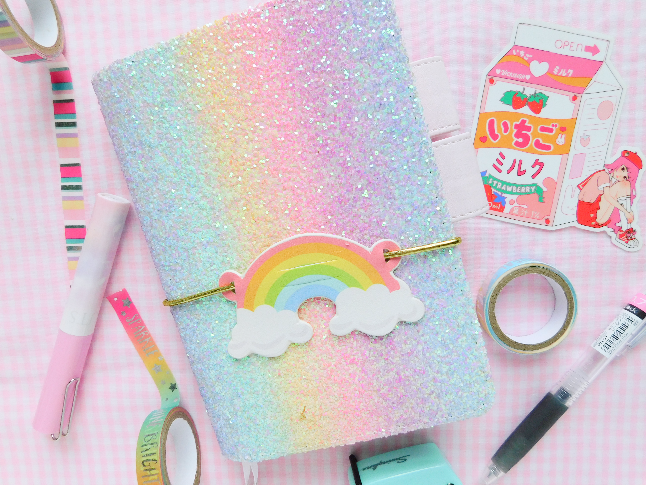 Hobonichi
My favorite purchase in July was hands down my Hobonichi. I bought it as a birthday gift to myself. It's not an official Hobonich it's an A6 Hobonicho-style that I bought it off of Amazon and the cover is from eBay but they're very similar to a Hobonichi. I do plan on writing a full blog post on it with pictures of the inside so keep checking my blog if you're interested in that. I've been having so much fun filling out the pages. If you need an excuse you use up your stationery collection I highly recommend investing in a Hobonichi because I've definitely been using up my stickers more.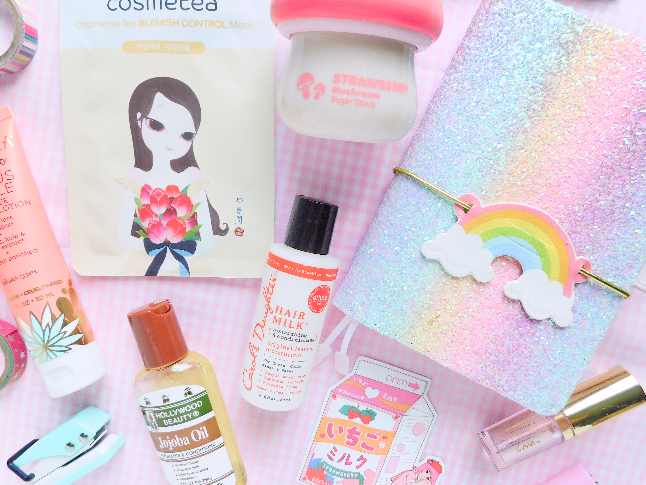 What are some of your favorite items at the moment?
Related Posts