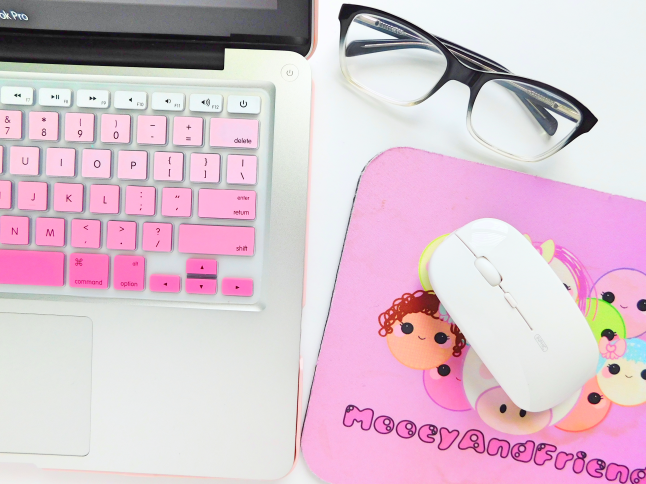 #1If you're reading this then I guess I survived this week! No, but really I've been really struggling this week. School season has officially started and I basically feel the pressure to go back to school (university or something) because my younger sister is going to beauty school. I'm tired of watching other people live their lives while I'm drowning in my tears. It's difficult when you have depression though. I'm so lost and I don't know what I want to do but I feel like I'm wasting time by not doing anything at all.
#3 How cute is MacBook though? I love it! I bought a
pink ombre keyboard
cover to keep food and dust from getting between the keys. Whenever I buy anything I always have to customize it and make as cute as possible, anybody the same? I also bought a pastel pink cover and mouse because I'm still having a difficult time scrolling. Fun fact: I've had that mouse pad since I started
my shop
. lol
#4 I've been watching GOT7's Hard Carry videos. For some reason, I missed this series when they released it so I'm going back and watching the first season before the second season of Hard Carry comes out. Thank goodness for cute boys keeping me going during difficult times.
#5 You have a couple hours to enter my BT21 plush giveaway! I will be contacting the winner this weekend. Thank you to everyone who's entered so far. I may have a special post going up on Monday as a thank you. *wink*
#6 Last night I finally watched To All The Boys I've Loved Before. It was kind of cheesy and unrealistic at times but still very cute! Definitely watch it if you haven't!
#7 Currently listening to BTS latest album. Have you seen their latest music video?
Posts from the week
Coffee Chat #29
Top 15 K-pop Summer Songs ♥ Summer 2018
Paper Chain Garland ♥ Crochet Pattern