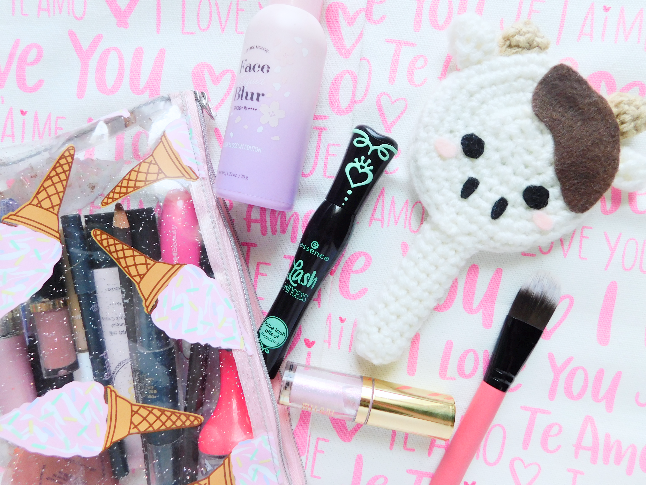 Summer beauty posts are some of my favorite types of blog posts to write because summer tends to be the time where most people like to get lazy dewy makeup look with messy tousled waves and that's my signature look. Hopefully, I have enough time to publish all the beauty posts I want to post this year before summer ends.
Today, I'm sharing my yearly 'what's in my makeup bag/pouch post'. I like to make one of these every year to see what beauty products I was using back when I went on the ___ trip. This time around I'm showing you guys what I brought with me on my trip to Florida I went on a few weeks ago. You can always tell what products are old/my favorite by looking at these posts, haha.
Let's start with base makeup. The primer I brought with me is the Etude House Face Blur Primer (cherry blossom edition), this has a slight pink tint that helps brighten dull skin. The BB cream I took was the Etude House Precious Mineral BB Cream. For quick application, I brought the Peripera Ink Lasting Mint Cushion. I rarely contour but I brought my Etude House Play 101 Stick with me in case I felt like being extra, I only used it once lol. The two concealers I brought with me were the Etude House Big Cover Concealer (my favorite) and the ELF HD Lifting Concealer, coverage-wise it's alright but not ideal for dark circles or hard to cover spots. Last but not least I have a mini Tarte blush that I received in my Sephora Beauty Insider birthday gift last year.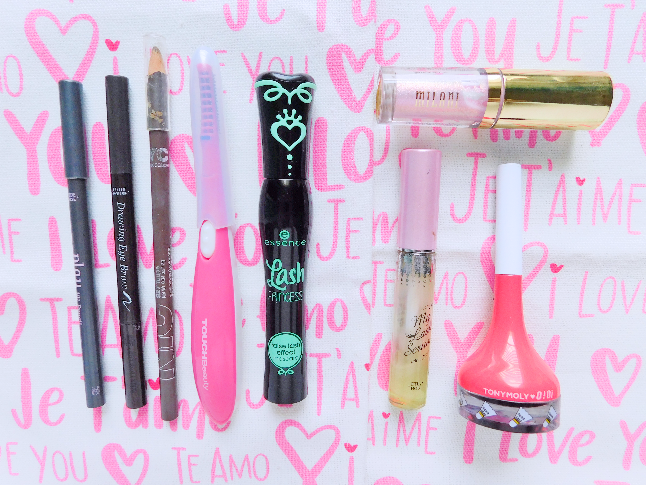 For my eyes, I brought with me an Etude House Play 101 Pencil in #8, Etude House Drawing Eye Brow in Grey Brown, and an NYC Kohl Brow/Eyeliner Pencil in Taupe. I use the TouchBeauty Heated Eyelash Curler because normal lash curlers rip off my lashes so I just use a heated lash curler. I coat my lashes with the Essence Lash Princess False Lash Effect Mascara. I highly recommend Essence Mascaras because they're amazing, affordable and cruelty-free. The eyeliner I brought with me is the Tony Moly Backstage eyeliner, my favorite gel eyeliner. I use the Milani Hypnotic Lights Holographic Eye Topper in 02 Luminous Light to get that ageyo-sal look. Lastly, I brought with me the Etude House Grow Serum which I've been using to grow my eyebrows. By the way, I'm not sponsored by Etude House but should be because I'm a huge fan of Etude House products.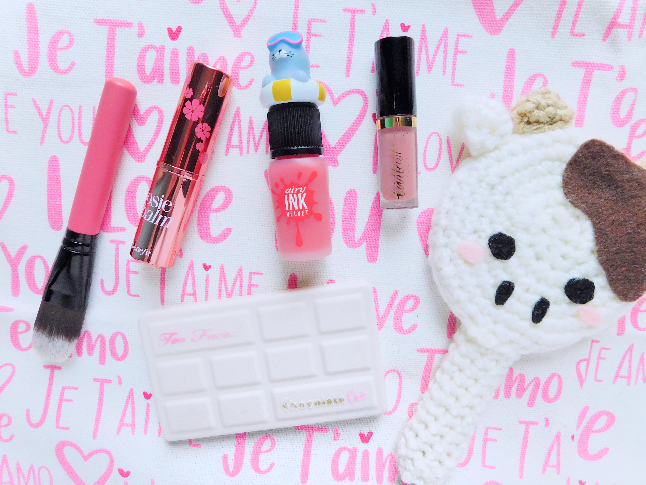 Surprisingly, I didn't bring that many lip products, just three and two lip balms one which is tinted, sorry I didn't include either. The three lippies are the
Benefit Posie Balm
,
Peripera Airy Ink Velvet in Pretty Orange Pink
, and a Tarte lip tint sample, I used the Peripera and Tarte the most. I also brought my trusty
Too Faced White Chocolate Chip Palette
because it's the perfect travel-size eyeshadow palette.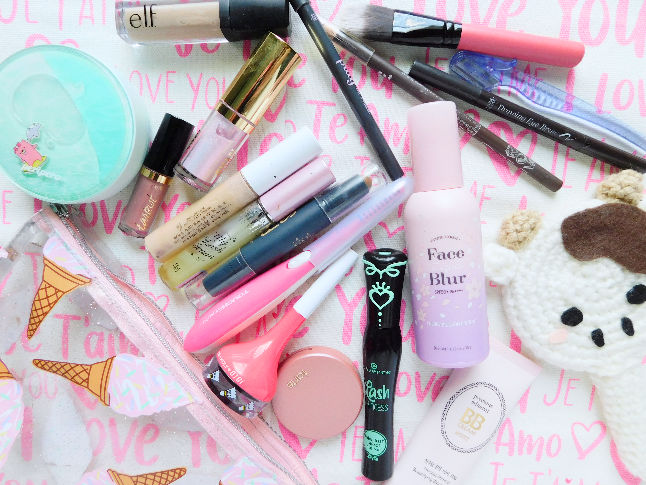 What's always in your makeup pouch?
Related Posts
My Makeup Collection ♥ Storage + Organization
My Makeup Routine ♥ Summer 2017
What's In My Makeup Pouch ♥ Summer 2017