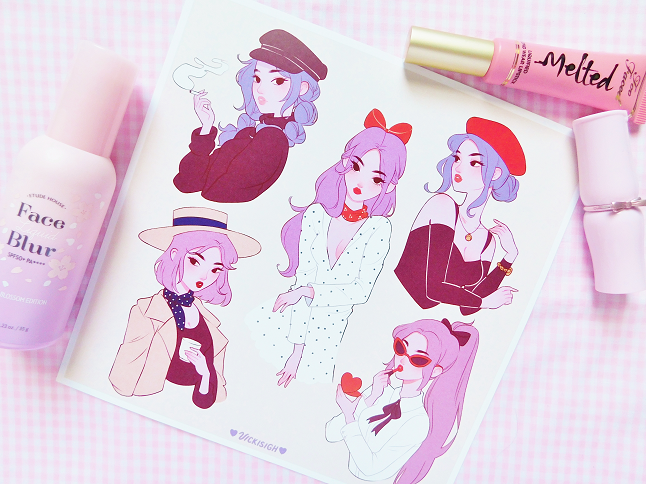 #1 Tomorrow I will be updating my
shop
with the dolls I mentioned in
this post
. If you are interested in one of those dolls make sure you are following me on
Twitter
or
Instagram
for updates.
#2 I'm so happy for BTS! They will be performing at the Billboard Music Awards again this year on May 20. I just hope that this year the camera focus on the group while they're performing and not the audience. Last year when BTS was performing all over US television they would quickly cut off the boys while they were performing just to show the audience. As a fan, I want to see my boys not a group of randoms. #justsayin
#3 I've been really annoyed with myself for randomly posting. I try to post 4 times a week and rest on Wednesday and weekends but now I'm just trying to post 2-4 times a week, still resting on weekends. I like following a posting schedule but sometimes stuff doesn't happen the way you want.
#4 Pusheen featured one of my photos on their timeline this week. I've been a Pusheen fan for years so it was a huge honor for me. Go check out the
Pusheen official Instagram
and double-tap my picture.
#5 My second
Vicksigh
order came in this week. I bought another
D.Va sticker
and an adorable casual Widowmaker print. Look
at this Widowmaker print
! Amelie (Widowmaker's real name) in casual outfits is just too cute! Wouldn't it be amazing if Blizzard made a skin like that?
#6 What are your skincare holy grails? I need skincare recommendations because my skin is really bugging me and I still have no reason why. All I ever drink is water (I never drink soda), I'm pretty healthy, and I just washed my pillowcases. I'm still thinking it could be a product in my routine.
#7 My sister and I are going to go watch Avengers: Infinity War tomorrow. I'm so excited! We're going early so hopefully, there won't be too many people. The film is 2 hours and 30 minutes! How am I going to survive?
Posts from the week