Last month
I combined my monthly beauty and lifestyle favorites into one post and this month I've decided to do the same. I used to separate my favorites into two because I didn't want to make one long post but now I'm like the idea of grouping them all together in one lengthy post. Let me know what you guys prefer.
Cosrx Oil-Free Ultra-Moisturizing Lotion with Birch Sap
It's a very light moisturizer, ideal if you have a multi-step layering routine. It has a lemony scent but not in an annoying kitchen cleaner type of way. I also love the pump dispenser because if you're into K-beauty you know that this type of packaging is rare to find.
Essence Lash Princess – Sculpted Volume Mascara
I bought this
a while ago
and have been using it pretty much every time I've gotten ready. The curved wand helps with curling, which is nice since I don't use a traditional eyelash curler and always looking for a way to make my lashes stay curled longer. I still prefer the False Lash Effect Mascara but this would be my second favorite mascara by Essence.
Nature's Truth Essential Oil Roll-On Blend – Lavender
Whilst deep in the blog world I found a post on ways to reduce stress (I never bookmark these pages, why?). As a rather stressful individual, I decided to take one of the tips which were to keep relaxing essential oils within your reach. So I bought this roll-on lavender blend and bring with me wherever I go and it actually helps! I also apply some on my wrists so that the scent lingers while I'm working.
Elizavecca Hell Pore Control Hyaluronic Acid Serum
This is my newest addition to my skincare routine. This serum helps reduce signs of early aging and contains whitening benefits. After using this my skin feels moisturized, supple, and my pores have somewhat faded.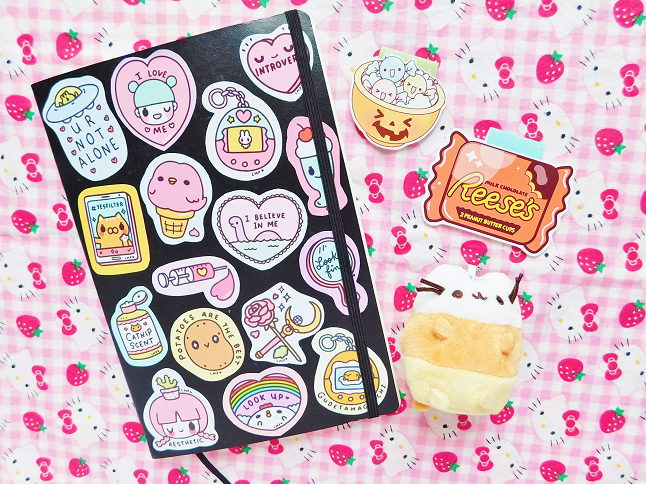 Leuchtturm1917 Bullet Journal
October was definitely the month of stationery for me. I bought tons of new goods and started to use empty notebooks that I haven't used in months, my bullet journal being one of them. I used it to help plan my Blogtober posts, track my finances and even got creative and made a blog ideas page. Maybe I will make a post featuring some of these pages.
Little Miss Paintbrush Stickers
One of the reasons why I didn't use my bullet journal was because of the cover. As you can probably tell I love cute pastel looking things and my bullet journal was the complete opposite of that! It was black, boring and the cover was wrecked from previous stickers that I had taken off. I decided to give my journal a makeover and placed these adorable
Little Miss Paintbrush
stickers all over the cover to hide all the blemishes. Now I love my bullet journal! There will be a Little Miss Paintbrush/Whimsicute haul coming soon!
Hello Paper Cat Halloween Magnetic Bookmarks
My order from Hello Paper Cat
filled was definitely a highlight for me this month. If you saw my
October planner spreads
then you saw that I used them every week. It's sad that I now have to say goodbye to them. I mean I can probably still get away with using the Reese's Peanut Butter Cup bookmark but I will have to wait next year to use the Candy Dish.
Pusheen Candy Corn Plush Keychain
This was my first time getting a Pusheen blind box and now I want more! I think the size of these plush keychains is perfect for your purse, backpack, keys, etc. I want to get some of the Christmas Pusheens next!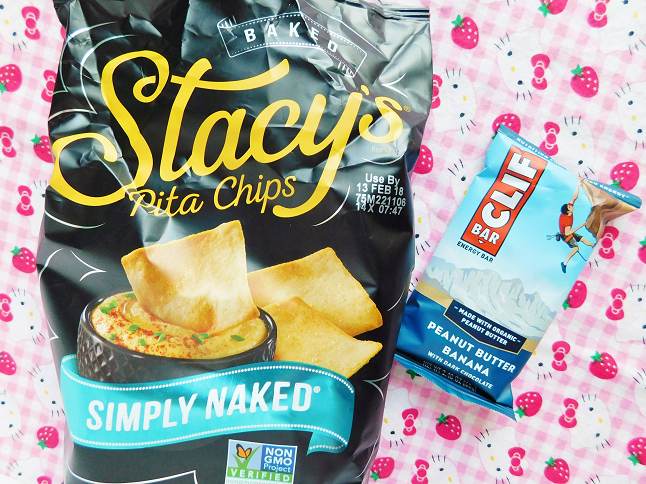 Stacy's Baked Pita Chips – Simply Naked
My love for pita chips was rekindled in October. I remember trying these a long time ago but was instantly reminded when I saw them in our kitchen pantry. I decided to buy my own bag and have been in love! I have a huge sweet tooth but every now and then I get a craving for something salty, these pita chips satisfy that craving.
Clif Bar – Peanut Butter Banana with Dark Chocolate
Another favorite flavor from Clif. I hate dark chocolate but you can't even taste it in these bars only the peanut butter and banana.
Related Posts