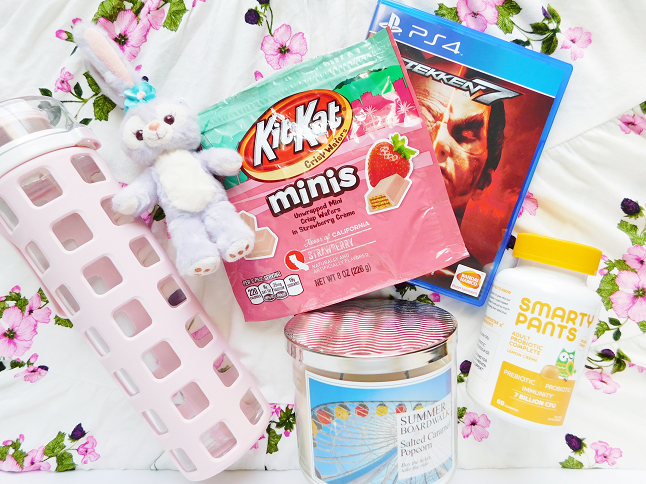 Time for part two of my June favorites. This time I am sharing my favorite and most reached for lifestyle items that I used most in June such as food, games and other random junk. If you are still hungry for more check out my
June beauty favorites
after you read this post.
Ello Glass Water Bottle
I recently switched from plastic to glass water bottles because one random night I couldn't sleep I decided to do some research and basically using plastic bottles aren't really good for you. Definitely, do your own research if you're curious too. I found this water bottle on sale at Target. There is a silicone lining around the bottle to prevent any risk of breakage. The color is also really cute!
Stella Lou Keychain
One of my favorite purchases of the year has been this Stella Lou keychain. She's been on so many adventures with me already (she came to Disney World with me) I can't wait to take her on more!
Strawberry KitKats Minis
I've been on the hunt for these strawberry flavored KitKats ever since I first saw them on Instagram. Finally, I found them on a random trip to Walmart so I snatched up a bag and OMG these are delicious! I need to pick up more bags before they discontinue them!
SmartyPants Adult Probiotic Complete – Lemon Creme
I've bought these Smarty Pants probiotic gummies in the past but this time I tried a new flavor, lemon creme. I don't like them as much as the
blueberry ones
but they do their job which is why I decided to include them in my monthly favorites.
Bath and Body Works Summer Boardwalk Salted-Caramel Popcorn Candle
This is my absolute favorite candle ever! When Bath and Body Works discontinued Summer Boardwalk a few years ago I only had one left so I made sure to only use it when I craved the scent of carnival food. However, this year they finally brought Summer Boardwalk back! It's a super sugary sweet scent (I love sweet scents) so it may not be everybody's cup pf tea but at least smell it next time you're cruising BBW.
Tekken 7
I grew up playing the Tekken games so when I heard they were releasing a new Tekken game I was all over that and stalked release information (as I do with almost everything). Tekken 7 contains a similar story like the previous games, family blood bath, and other nonsense. Honestly, the story mode was rather boring but what I loved about this game was all of the female characters! I remember back when Nina was like the only female character that was available but now you have 11 female fighters to choose from, which is amazing! I played Tekken 3D Prime Edition so a lot of the players were familiar but I loved the new fighters, especially Lucky Chole!
Related Posts