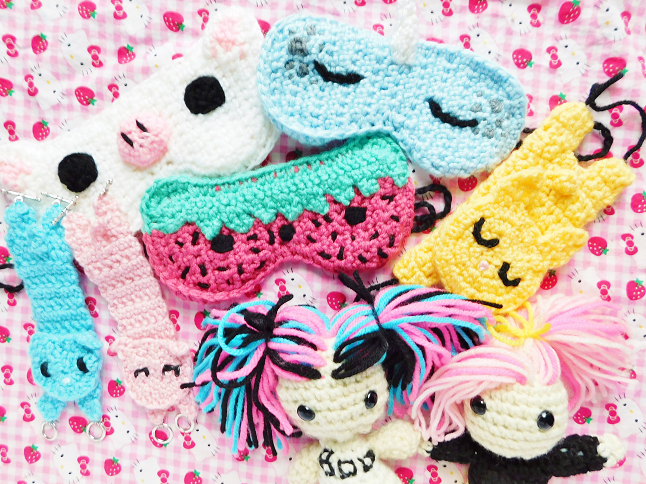 #1 Over the weekend we got security cameras installed around our house because when we went to Florida a couple weekends ago we got robbed. This is our second time getting robbed so my parents finally decide to do something so we now have cameras all over the house. Now I can't do embarrassing things around the house because my family members can easily access the cameras via an app. Thankfully the cameras don't have audio so I can still sing at the top of my lungs! So that's a relief. lol
#2
If you
follow me on Twitter
then you know that I'm selling some stuff on Depop. I have a wide variety of items and plan to add some books and clothing over the weekend. If you have a Depop account definitely
check out my shop
and help a girl out.
#3
I decided to post some of my past crochet items in my Depop shop because I have so many crocheted items and I have no idea what to do with them. I have tons of ideas for reopening but doubt myself because I haven't had that much success with
my shop
lately, which is the reason why it takes me forever to reopen my shop. Another mistake that I always make is that I want to create mini collections but then I end up making lots of crocheted items and then they don't sell hence lots of leftovers. Anyways, what I wanted to ask you guys is what I should do with all of my old stock?
#4 If you ever feel like you are in a slump I highly recommend you to work out because it always puts me in a positive mood, it's the endorphins! Just do it!
#5 I'm loving Lana Del Rey's new song Lust For Life it's my current earworm.
#6 By now you probably heard of the unicorn frappuccino. I'm actually surprised Starbucks decided to advertise this drink. As a Starbucks enthusiast, whenever I hear of a new drink from Starbucks I am the first to hear of any Starbucks news. They've had many frappuccinos in the past that weren't as talked about as the Unicorn drink. All I saw on Wednesday was pictures of the Unicorn Frappuccino. With that said. After trying it I think it tastes like Skittles!
#7 We took Lucy to the vet today. The house feels so empty without her.
Related Posts