It's time for day 3 of the 12 Days Of DIY! I was inspired by some hair clips that I saw on Forever 21 but they looked like a fairly easy project to make so I decided to make my own instead of buying them (even though they only cost like $3). Last time I check though they were sold out so I didn't waste my time after all! These are perfect for this time of year and would look adorable at a Christmas party!
You will need
– Various felt colors
– Hot glue gun
– Hair clips
– No-sew glue
– Sewing needle
– Thread
– Scissors
– Polyfill stuffing
– Pom poms (and other decorations)
Using your scissors cut out a triangle shape out of felt. Feel free to cut out whatever size you want.
For the Santa hat clip, I cut out a white stripe of felt and sew the red and white pieces together. Skip this step if you are making the Christmas tree.
Next, fold the triangle piece of felt in half and sew with thread.
Cut out a circle piece out of felt and attach it to the bottom of the triangle piece. Stuff with polyfill stuffing, turning the piece into a cone and sew the remaining closed.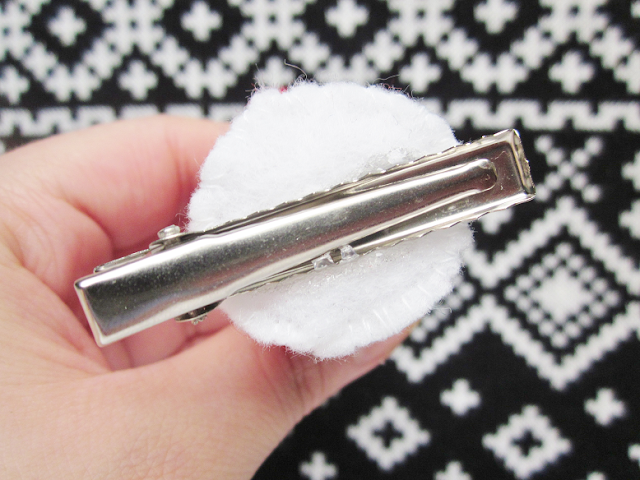 Using hot glue, glue the hair clip to the bottom of your felt cone.
Time to decorate! For the Santa hat, I glued a white pom pom on top of the cone. For the Christmas tree, I glued mini pom poms all over the tree and applied a handmade star on top of the tree.
Do you like dressing up festive?