Today I thought it would be fun to share some pictures of my bedroom. I don't think I have ever shared pictures from my bedroom before so I thought it would be entertaining for you guys.
Let's start with my pink crochet rug. You will notice I keep a lot of crochet projects in my room. This rug is one of my favorite projects I've made. The pattern is from a Mollie Makes magazine. The burger slippers are from Forever 21.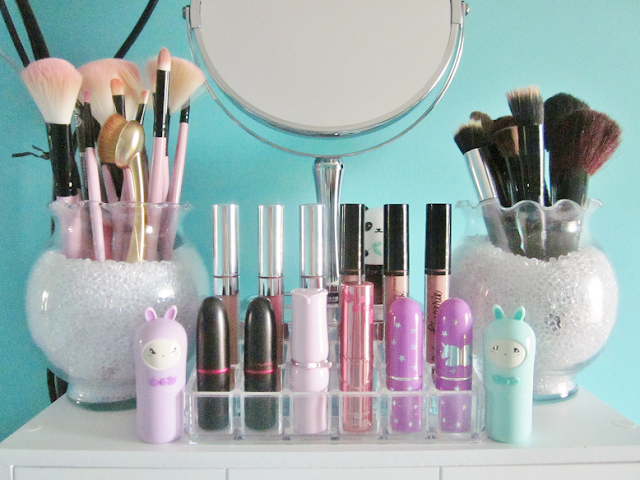 Here is a peek at my beauty center. I keep my brushes and my favorite or new lip products on top of my makeup drawers. Let me know if you would like to see a post on my beauty center.
My Tsum Tsum collection has grown tremendously since my
Tsum Tsum collection post
. I don't know where I'm going to store future Tsum Tsums once this heart shelf is full. Around the heart, I have a pastel crocheted heart garland. On top, I have a sundae ice cream scoop hair clip that I made from a Twinkie Chan pattern.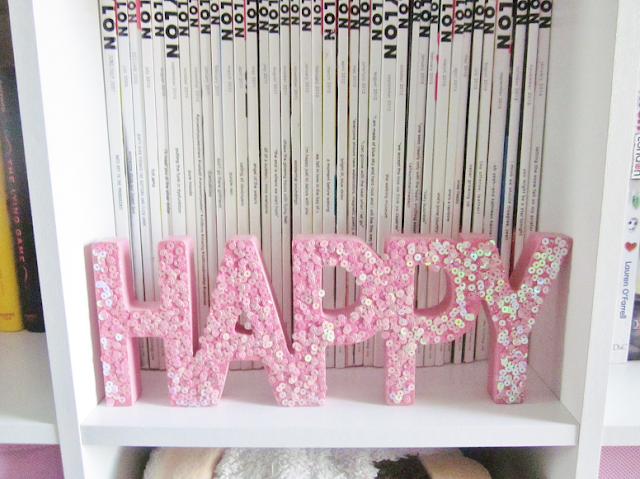 For those who didn't know I'm a magazine hoarder. I love magazines and one of my dreams is to work for a fashion and/or beauty magazine. Nylon Magazine uses to be one of my favorite magazines because they were so different from other magazines at the time I discovered them in 2007. Since then they've changed a lot and try to be trendy like every other magazine so I'm not much of a fan nowadays. The pink sequin happy sign is from the Target dollar section.
It's only been a month since my
what's in my bulletin board post
so not that much has changed but I have added a few things such as one of my favorite sleep masks, a pinata star, and a fortune. The fortune says "Your home is a pleasant place from which you draw happiness" which I couldn't agree more with.
Here is some more of my crocheted projects. I crocheted these randomly when I was craving doughnuts, my favorite is the panda doughnut inspired by California Donuts. Underneath them is a basket of cotton yarn on top of a Memebox. To the left is a Hello Kitty plush from Chicago my mom gave me from when she went to Chicago a couple months ago. Lastly is the Marshmallow Pop candle from Target I got a couple years ago (I'm a very slow candle burner).
This is my yarn shelf. As you can tell I have a lot of yarn! When I first started crocheting I would buy new colors every time I went to a craft store so this collection is a pile of colorful skeins from over the years. For those who are curious about the color of my walls its actually a wall color inspired by one of my favorite nail polish, For Audrey by China Glaze.
What interesting things do you keep in your room?