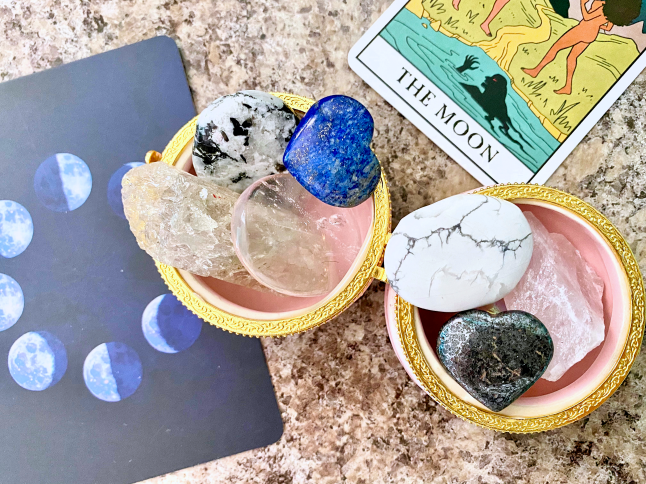 – As part of the Yoga with Adrienne monthly calendar, this week along with the regular yoga video there was an additional meditation video. I normally meditate for 10 minutes a day but because of the additional meditation, this meant I was doing around 20 minutes of meditation! I can't really explain how much I enjoy practicing meditation. It's helped calm my anxiety, help me control my emotions, and get a better night's sleep.

– The new Shang-Chi and the Legend of the Ten Rings trailer. It looks so cool! Shang-Chi was also the brother from Kim Convenience Store too! Plus, I wasn't expecting to hear a Jackson Wang song in the trailer! Can't wait for this film to be released!

– Look at my latest batch of crystals! I bought some Clear Quartz, Rainbow Moonstone, Lapis Lazuli, Howlite, and Hematite. I've been meditating with them every day to activate their energy and so far I've been getting a lot of energy from Lapis Lazuli and Rainbow Moonstone! They're from KomalCrystals. I would highly recommend their shop if you're looking for crystals, they're affordable and arrived quickly.

– Good Humor Strawberry Shortcake Popsicles. These were my favorite as a kid! The perfect refreshing sweet treat to have in Spring.

– I wanted to give one of my favorite podcasts a shoutout. If you haven't listened to An Acquired Taste Podcast yet what are you doing? "The podcast for weirdos who love self-care, self-help, and the strange world we live in!" It feels like you're having tea time with your best girlfriends. They always choose such intriguing subjects to discuss. It's one of the podcasts that I looked forward to hearing every week.

– Just a reminder that there is still time to enter my crochet K-pop lightstick keychain giveaway!

– The last episode of The Falcon and The Winter Soldier is out! When I first heard about this series I wasn't excited but after watching most of the show I can proudly say I'm beyond impressed! They address so many current issues like privilege and race but in an MCU way. To be honest, I think I like it more than WandaVision.

Posts from the week
Animal Crossing Dream Address ♥ Spring 2020
Curly Girl Method Approved Washing + Styling Products ♥ Drugstore Haul

What are your plans for the weekend?