I've always wanted my own 3-tier rolling cart and have been close to almost purchasing one before but I held it off. But after trying to organize my desk I realized I just had too much stationery and nowhere to put it so I decided to finally invest in a cart.

The cart I own is the Lavender Lexington 3-Tier Rolling Cart by Recollections from Michaels Craft Store. I've seen these carts in person at Michaels before but since then they've expanded their color options so I'm glad I waited to buy one because I love this lavender color!

This cart is now the new home of most of my stationery so I wanted to give you a quick tour of what's on my 3-tier rolling cart. There is so much space available so I will probably reorganize this in the future but as of right now I'm very happy with how organized it.
For the sake of this blog post, I moved my cart because the cart is actually right next to my desk for convenience. However, my desk is on the opposite end of my room and that section doesn't get any light so I rolled the cart to a different location so I could take better pictures.
I also filmed a video of me showing you what's in my cart more closely so that will be posted on my Youtube channel in a few days. Subscribe if you haven't already!
On the top tier, starting with the back, I have the planners and journals I use the most. Next to the journals, I have a box with most of my Korean stationery.

In the front, I have a cup and my kitty pen case with all my pens, brush pens, etc. In front of my writing utensils is my HP Sprocket in a BT21 Cooky pouch and a bunny marshmallow. Next to my pens, is a box of washi tape and a pouch with tape rollers.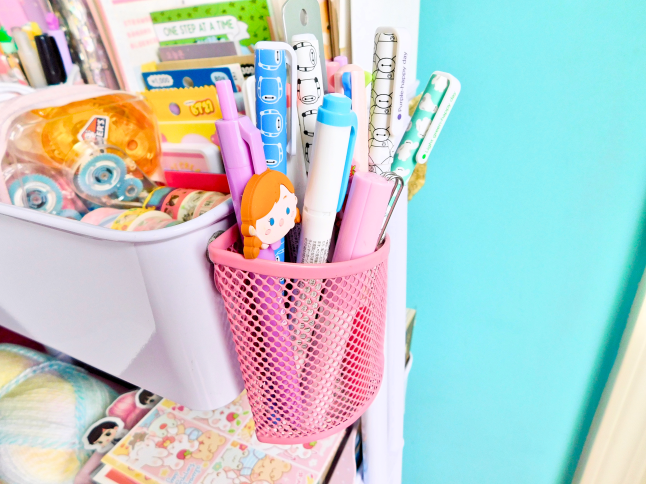 On the side of the cart, I have this pink basket that holds random pens, two of my new Zebra Mildliners, and an Anna pen that I got from Daiso Korea.
On to the second tier. This tier could be organized better but this is how I've organized this section for now.

I have placed a skein of pastel rainbow yarn I recently used for my panda bow earrings. I also have a tin tray that holds my dashboards, page makers, and postcards.
Starting with the back left corner, I have all of my sticker books and next to them are two stacked boxes filled with stationery. On the top box, I have some flashcards, containers with die-cuts and free stationery I've received from friends or orders, and some huge clips I use for holding my journals open.

In the front, I have a set of eyes for amigurumi, a pouch with most of my HelloPaperCat magnetic bookmarks, and my crochet pouch, Next to the pouch are some Muji paper bags that I want to reuse and use in my journal. Behind the bags are two empty Harney and Son tea containers, one is empty and the other holds some candy. haha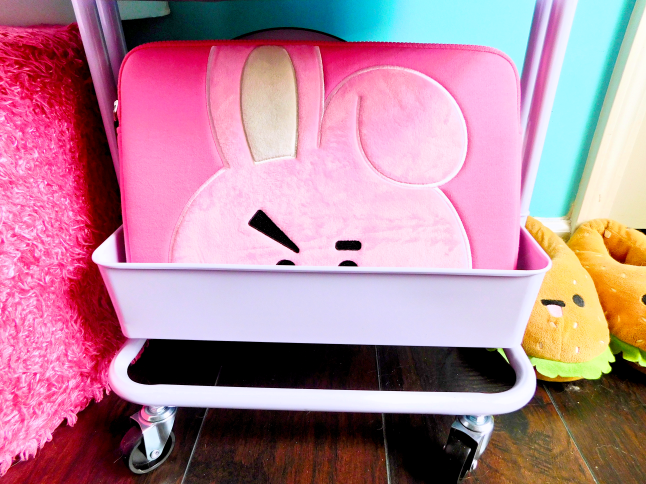 Lastly, on to the bottom tier. I keep my BT21 Cooky laptop cozy because it fits perfectly here!
At the front, is my ring light, and in the back are the journals that I've used in the past or no longer using.

Behind I have all my old planners, journals, and notebooks. I also have my 2019 Hobonichis and my Stalogy notebook that I failed at using. All the way on the right is a mini coloring book and a few mini pattern paper books. What do you use these for by the way? I bought them to use as backgrounds but I don't really use them for anything else and don't know what to use them for, any ideas?
Do you have a 3-tier cart?