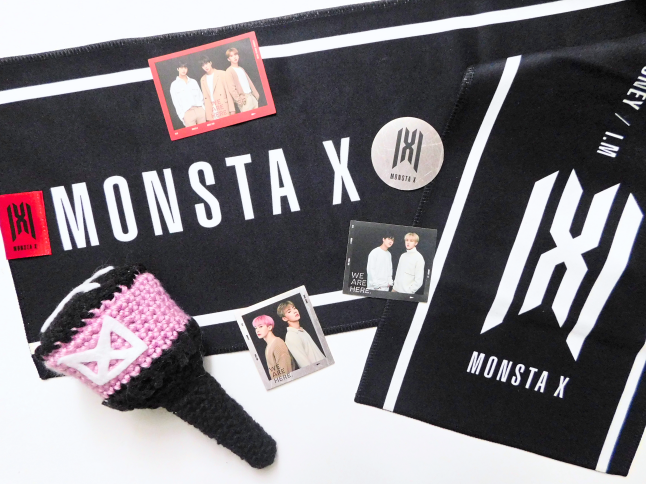 On July 30, I went to my first K-pop concert, the MONSTA X We Are Here concert held in Atlanta! Despite me being a huge fan of K-pop since 2010 this was my first ever K-pop concert, can you believe it? Monsta X has quickly become one of my favorite boy groups so when I heard they were coming to Atlanta I didn't want to miss the opportunity to see them live.
I ordered my tickets the day they were released because I was scared they would sell out because not a lot of K-pop artists come to Atlanta but when they do they usually sell out. I bought two tickets, one for me and my sister, who is a fan of K-pop but doesn't listen to the newer stuff so I slowly had to get her into MONSTA X so that I wasn't alone. lol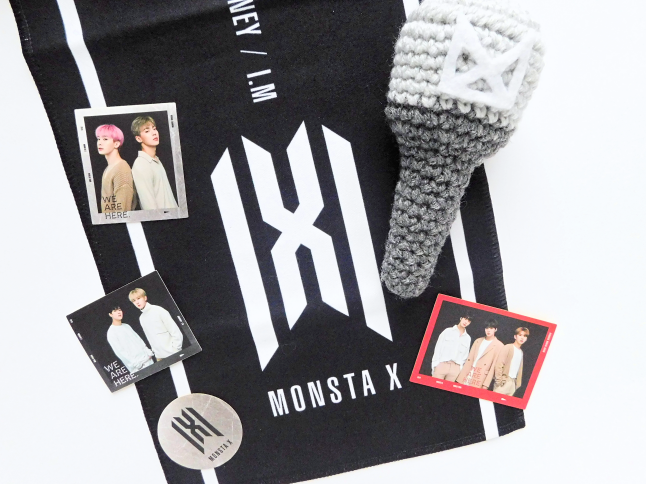 The concert started at 8 but my sister had school so we didn't leave home until 6. Thankfully, we only live 30 minutes away from Atlanta and traffic wasn't too bad since it was a Tuesday. We arrived 30 minutes before the concert started which was enough time to use the bathroom and shop for merch. My merch goal was to get a t-shirt, a picket fan, and stickers. Lightsticks were already sold out when we got there but the t-shirts and picket fans sold out as soon as I got in line! I tried preordering merch the day before but the website kept acting weird so I wasn't able to order anything online. I ended up just getting a slogan and stickers (for journaling) because I didn't want to leave empty-handed. Some guy around the merch table was handing some MONSTA X cards and I got one. Check out his Tumblr
here
.
The concert was held at the Fox Theater which I've been to before when I watched Chicago and CATS, both musicals, but this was the first concert I ever saw here. All the staff at the venue was extremely nice and helpful. I often hear "horror stories' of K-pop concertgoers about the people at the venues mistreating them or not being organized but all the staff that we interacted was so lovely and helpful. There was a lady in the restroom who kept letting us know when they had empty stalls open and another lady helped us find our seats. Since I'm not flowing in money I bought the cheapest tickets I could get which were on the top floor but they were pretty good seats. There was a row of 5-6 empty seat in front of us which was great because we could see the stage better. They also had screens so we could see the member's gorgeous faces.
MONSTA X performed various songs from their recent albums along with some of their biggest hits. The members also put together special stage units, Kihyun, Hyungwon, Minhyuk, Jooheon and IM, and Shownu and Wonho. These songs were amazing and I really hope that all these songs are featured in their next album! The boys put on an incredible show! The members spoke English when they spoke to us but they did have an interpreter available who translated when they spoke Korean. If you follow MONSTA X than you know that Wonho (my bias) wasn't feeling too well around this time and you could tell that he looked tired and had to take breaks in between songs. During their performance of
Alligator
, Wonho fell down (i think to catch his breath) and was carried out by the members as soon as they finished the stage which broke my heart. Thankfully, this was one of their last performances. They did perform
Rodeo
after but they didn't dance just goofed around and waved to fans.
At their ending speech, most of the members spoke in English and said their thank yous to their Monbebes. IM message about K-pop just being a "fad" was really powerful! Jooheon's message especially made me cry. Wonho spoke in English during his speech and told us that he wasn't feeling too well and that he didn't want to worry Monbebes so he tried his best, and he did! You can view their ending statements
here
.
Because I'm extra, I put together a playlist which I've been listening to non-stop since the concert for you guys. Hopefully, I can turn some of you into MONSTA X fans (they're called Monbebes!) so that we can swoon about them together!
Overall, I had an amazing time! I was really emotional at the beginning of the show because I couldn't believe they were real! I'm so used to watching MONSTA X behind screens but for them to be right there justs a few feet away from me! I couldn't! I still get giddy thinking about the show. It was one of the best days of my life and I can't wait to see my boys in the future! Despite Wonho being unwell he still was a trooper and put on an amazing show! At one point in the concert, he was looking up on the top floor, directly at my section for very long. Then, during his speech, he said that he likes to look at Monbebe in the eyes. *squeal* I'm pretty sure he didn't make eye contact with me but I like to think because of the empty row in front of us that he had a better look at me. This is just me overanalyzing this interaction but whatever. haha
Check out my Instagram and IGTV to see the videos that I took during the concert. I apologize for my screaming and the out of focus shaking footage. I tried my best to get some pictures but everything came out blurry.
Have you been to a K-pop concert before?