7 is my favorite number. I was born in the 7th month and if you multiply the 7 by 2 you get 14 which was the day I was born. That's why I wanted to start a new series in which I share 7 things. Today I'm starting with one of my favorite places in my room, my desk. I've posted several posts featuring my desk before but I'm always refreshing things up on my desk. By the way, as I was linking past posts to this post I noticed that my desk is extremely messy. Sorry!
1. Unused pens and colored pencils
You will notice that I keep a lot of writing pens and pencils on my desk so of course, I don't have enough time to use all of them. All of the pens and pencils in the pink cup (which I decorated with washi tape) ran out of ink or I don't use anymore. I like to keep "pretty pens" as decorations for stationery posts. The colored pencils I do use but not as often as other pens.
2. My Melody
This is a crocheted My Melody face that was meant to be a garland but I gave up. The pattern was made by Twinkie Chan in collaboration with Sanrio (
pattern here
). I couldn't understand the pattern so I just made everything I could and cut out a face with felt and glued it on. I like my camera on top of this because I don't have anywhere else to place my camera. lol
3. Starbucks coffee cup
This is a Starbucks coffee cup ornament that I bought for
my mini Christmas tree
a few years ago. I loved it so much that it now sits on my desk.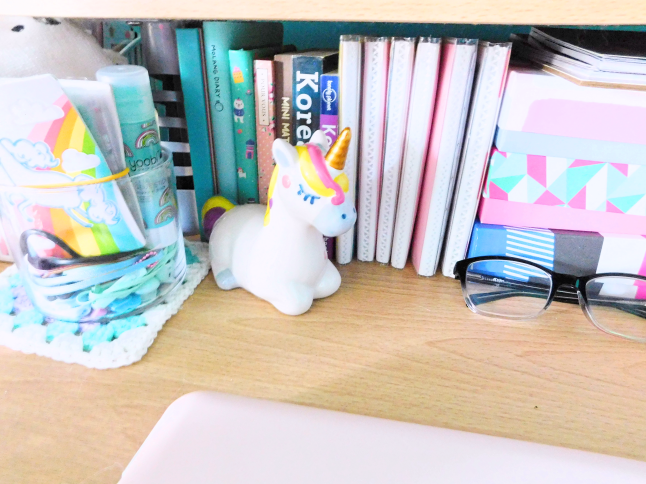 4. Unicorn
Like every creative person, I love unicorns! I bought this for $3 at Target. It's super cute and usually has a washi tape hanging from its horn.
5. Colorful pens
Since I shared my unused pens I had to share what I use instead. In the cup on the left, I store all of my Tombow dual brush pens and Zebra Midliner pens. In the pouch on the right, I keep my Pilot Juice pens, stamp pens, and pencils (
want to see what's in my pen pouch?
). Just looking at all the colors make my heart happy.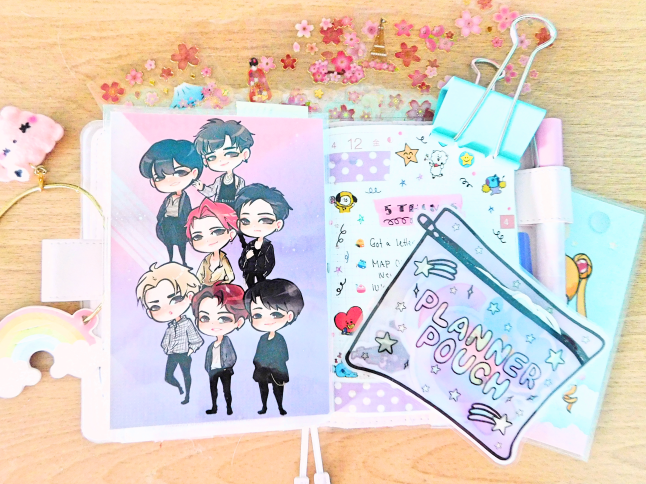 6. Hobonichi SetUp
7. Nylon Korea magazine
One thing you should know about me is that I love magazines! I have so many issues of magazines in my room. Even though Nylon here in the States isn't in print anymore I still like getting Nylon Korea and Japan magazines, especially since they usually featuring idols. In front of the magazine are some Pachimari plushies (
crochet pattern available here
).
What do you keep around your desk?
Related Posts
Mood/Dream Board ♥ Spring 2019