Happy Lunar New Year! I have never celebrated Lunar New Year but it looks like so much fun and I always love finding out what the animal of the year will be. The Lunar Animal of 2019 is the pig, the last animal in the Chinese zodiac wheel. Those born under the year of the pig are said to be compassionate, generous, and diligent.
Today, I'm going to be sharing the pattern on how to make those piggies! You can get really creative with this pattern and use the pig decal for multiple different projects. For example, you can make a brooch, a coaster, or you can make a pig garland! Remember to tag me
@mooeyandfriends
or
@mooeyscrochet
of your completed projects so that I can see them.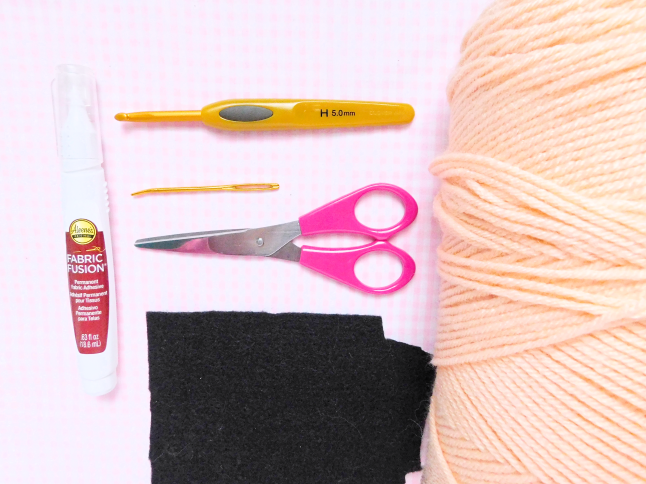 Supplies
– H/4.25 mm crochet hook
– Pale pink worsted weight yarn
– Slanted tapestry needle
– Scissors
– Black felt
– Fabric glue
Aberrations
ch(s) – chain(es)
st(s) – stitch(es)
slst – slip stitch
sk – skip
sc – single crochet
dec – decrease
flo – front loop only
blo – back loop only
(x_) – repeat _ amount of times
Crochet Level
Beginner
If you have any problems with this pattern feel free to reach out to me so that I can help you and make any corrections to the pattern.
Face
Round 1: magic circle, sc 8 sts. Total = 8 sts
Round 2: 2sc in each st (x8). Total = 16 sts
Round 3: 2sc in next st, sc 1 st (x8). Total = 24 sts
Round 4: 2sc in next st, sc 2 sts (x8). Total = 32 sts
Round 5: 2 sc in next st, sc 3 sts (x8). Total = 40 sts
Round 6: sc 40 sts. Total 40 sts
slst and move to the first ear
Ears (make 2)
*Sk 5 sts and insert your hook for the second ear.
Row 1: sc 4 sts, turn. Total = 4 sts
Row 2: ch 1, sc 4 sts, turn. Total = 4 sts
Row 3: dec 2 sts. Total = 2 sts
cut off and weave in ends
Nose
Row 1: ch 6 sts. Total = 5 sts
Row 2: turn and crochet on the opposite side of the row you were just working on, slst to first st. Total = 10 sts
cut off and leave long yarn tail for sewing
Assembly
Sew the nose to the center of the pig's face. Cut out two black circles to use as eyes and glue with no-sew glue. Weave in all ends.
Related Posts