It's that time to share my monthly favorites again. I always think I don't have enough items to make a monthly favorites post but then after I think about it I end up with tons of things that I just have to show you guys! Here are the beauty and lifestyle products that are Michelle approved.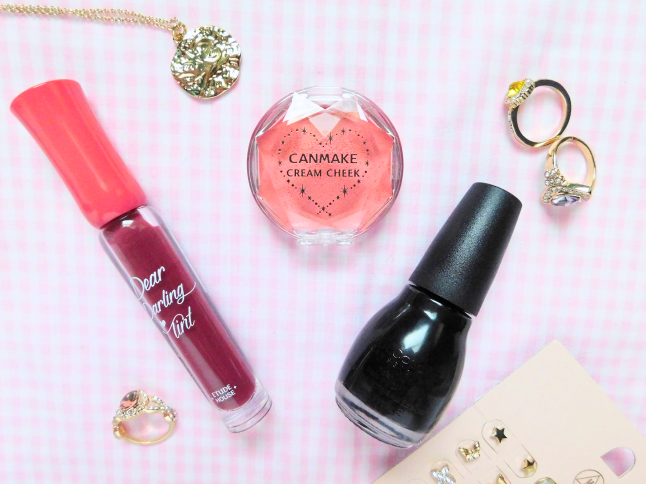 Etude House Dear Darling Water Gel Tint – PK003 Sweet Potato Red
For autumn, I wanted a different lip shade so I went with this brownish berry color or as Etude House likes to call it "Sweet Potatoe Red". I love the formula of this lip tint because it's hydrating and you can build up the color to be bold or just a wash of color.
Canmake Cream Cheek – 07 Coral Orange
I've always preferred cream blushes over powder because they're easier to handle and you can build up the color without looking too harsh. The coral orange shade adds a healthy warmth to my face that makes my pale skin look less zombie.
Sinful Colors – Black On Black
The nail varnish I've been using is Sinful Color's black nail polish. It's just a plain black color but I wore it pretty much everyday in October so it earned a spot in my favorite's posts.
Soap + Glory The Way She Smoothes Softening Body Lotion
I don't think I've ever been disappointed with a Soap + Glory product and this lotion is no different. It's basically the same product as their other body lotions but the scent is different and what makes this lotion stand out, it smells like Starbursts!
Etude House Soon Jung 10-Free Moist Emulsion
I recently stumbled across the Soon Jung line by Etude House which is a line for those with sensitive skin. I found a review that sold me on this product so I bought it right away because I was so excited to try it! I've been using it on and off for two weeks and I love it! The texture is lovely and keeps my skin hydrated all day long! The bottle is very annoying though because it's one of those toner-style bottles where you have to shake the bottle until the product, this is your typical emulsion texture so I have to shake like crazy just to get a little bit of product out. I can't even squeeze the bottle because it's made from a sturdy plastic almost glass-type of a bottle.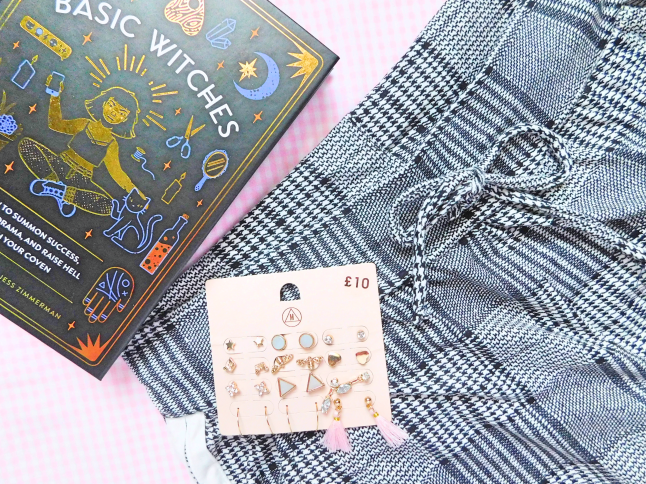 Basic Witches: How To Summon Success, Banish Drama, And Raise Hell With Your Coven
To get into the Halloween spirit I ordered this book because it's been on my wishlist since last year and wanted something festive to read for October. Yes, it's somewhat about witches but it's doesn't go that far into the witch culture, it's mainly a self-care book with some history about witches. My favorites sections are the self-help sections but I also love the chapters such as Nail Art to Terrify Men, Magical Excercise, A Ritual for a Relaxing Netflix Binge, Which Pet Should Be Your Familiar?, How to Read Tea Leaves, to name a few.
Missguided Earring Set
In October, I started wearing earrings again. The last time I wore a pair of earrings was when I was in high school, I was very surprised that my holes hadn't closed up! I decided to start off slow and buy small studs and hoops. I fell in love with this set on Missguided because of the pastel colors and it contains tassel earrings, which I adore!
WetSeal Plaid Pants
One thing you should know about me is that I live in leggings, black leggings to be specific. Since last year I've been trying to build up my pant collection though so that I can wear something else other than leggings out in public. I was drawn to these plaid joggers (no longer available online, sorry) because they looked like causal dressy pants. The white stripes on the side give them a sporty look. They're very comfy and can easily be dressed up or down. So far, I've only worn these with a cozy knit sweater and my trusty pair of studded creepers.
Related Posts