Can you believe we are halfway through 2018? Well, a new month means another slew of monthly favorites. Today I'm sharing my favorite beauty and lifestyle items from the previous month.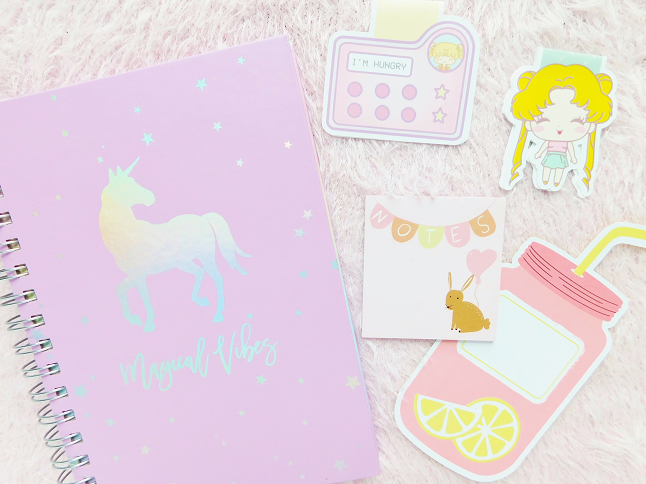 Crochet/Art Unicorn Journal
I've been using my unicorn notebook from Michaels a lot recently so it's made it into this month's favorite post. The pages inside are rainbow-colored pages on the inside! My intentions with this journal were to use it for crochet sketches but its doubled as an art journal because I just insert my drawings of projects I want to crochet but who knows if I will. haha
Bunny Sticky Notes
These sticky notes were supposed to be a freebie with
my Oh So Fawn order
but they weren't in my parcel when it arrived. I message Abby who runs
Oh So Fawn
and she happily sent them to me with a free bunny die cut. I've been using them ever since!
Sailor Moon Magnetic Bookmarks
Another stationery item I wanted to include are these adorable
Sailor Moon bookmarks
from
Hello Paper Cat
. I love the illustration and pastel colors, plus they add extra cuteness to my planner.
Skinfood Freshmade Cranberry Face Mask
These Skinfood masks have been on my wishlist for a while but I was able to find the cranberry on sale at Ulta. I've been using this as an overnight mask because the gel-like consistency is comfortable to sleep with. When I wake up my skin feels incredibly soft! They have a couple other variations, I definitely plan on buying more.
Pacifica Sun + Lip Care SPF 30 Mineral Clear Peach
With Summer among us, I wanted to pick up a new lip balm with SPF to protect my lips from the harsh sun rays. I take suncare very important I even made a whole post about it
here
. I didn't know it contained color but it's very subtle. It adds a beautiful wash of coral to my lips.
MoonStone Fragrance Mist
I found this fragrance mist on sale at Bath And Body Works. The scent is tranquil with a blend of Bergamot, Muguet, and Lunar Musk. I just wished the scent lasted longer. It's a travel-size so it fits perfectly in my handbag.
Etude House Precious Mineral BB Cream
I wanted a new BB cream so I went down the Amazon rabbit hole and came across the Etude House Precious Mineral BB Cream which I bought. The coverage is a light/medium but it's buildable, you don't need concealer but I still add some because of dark circles. It also gives my skin a nice glow without it looking too greasy.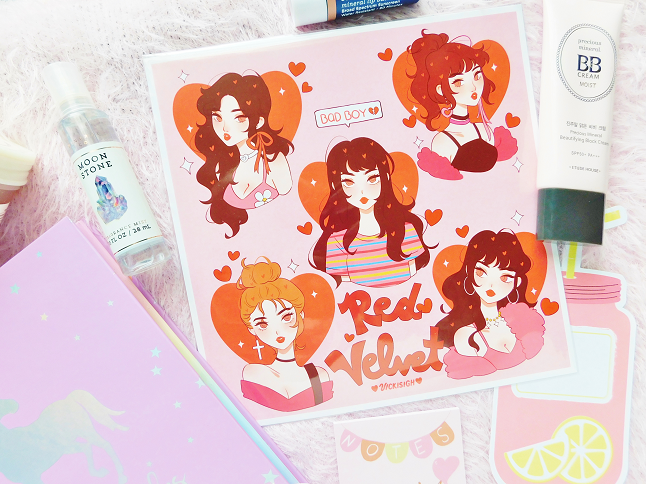 'Bad Boy' Red Velvet Print
Can I go one month without buying a print from
Vickisigh
? Apparently not. I couldn't pass up this lovely Red Velvet print though, they're one of my favorite K-pop girl groups, I can't wait it display it in my bedroom.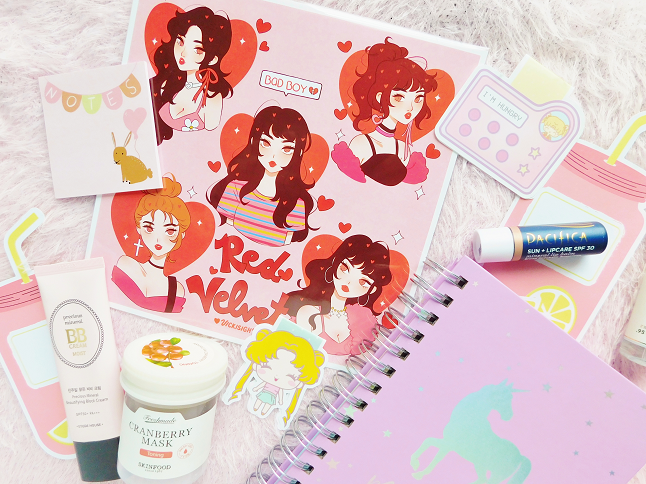 What are some of your favorite items at the moment?
Related Posts