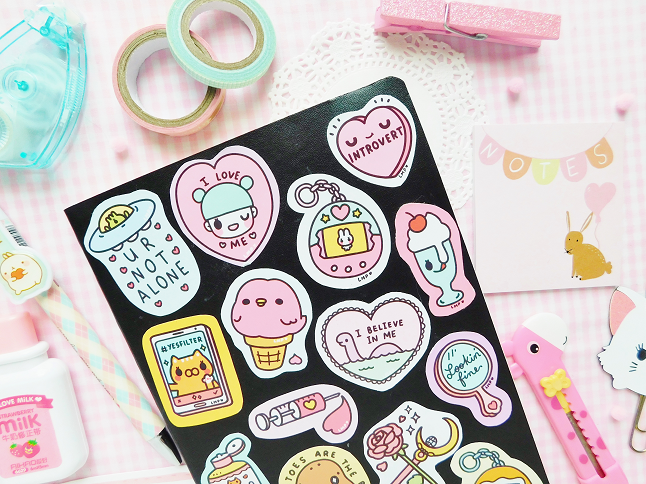 I can't believe it's been
2 years since I last shared pages from my bullet journal
with you all! I have been using my bullet journal on and for but those pages weren't blog-worthy pretty and they contained a lot of personal information. This time I decided to snap some pictures before I started filling in all of my information so you guys can get some inspiration.
I get a lot of inspiration from Rainbowholic. She started a bullet journal this year which inspired me to use my Leuchtturm journal more. To be honest, I don't recommend getting a fancy bullet journal notebook because some can be expensive. Just a plain notebook will do.
Starting with the cover page. This is actually a piece of paper I glued because the original pages were unused pages from the last time I use my bullet journal and didn't use them so I wanted a clean slate. On the left, I used several strips of washi tape to create a washi page.
This is the monthly setup. My theme for June was pink, girly, and floral. I added a calendar because they help me remember what day it is. a the bottom is an area for my goals this month.
On the right are all my trackers. I got this idea from Rainbowholic. I used to make a grid style tracker for my monthly habits but I didn't really like how it looked on so I'm trying a separate calendar for each habit this time.
These are my spending pages. On the left is a spending log, I swear by these! Keeping track of all of your spending is the only way you can save money! Even if you aren't into bullet journaling at least keep a notebook to track your money, doing this really helped me save.
On this page is where I write down things that I really want aka a wishlist. This is my first time adding a wishlist page to my bullet journal so I'm not sure how well it will work. I thought that by adding this next to my spending log it would help focus on a certain item that I want. At the bottom is a tiny sticky note that I glued for my monthly bills.
That's it! I know I only have a few pages to share but that's because I don't really make fun doodle pages because I never fill in those pages so I stopped making them. haha
Do you keep a bullet journal?
Related Posts