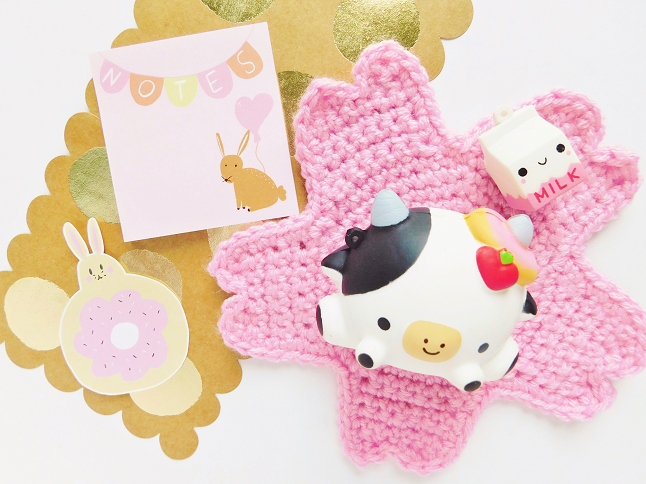 #1 Over the weekend I broke down and I told my family that I needed help. This is a huge step for me because I'm not really open about my feelings with my family about anything. The past couple months I've just started to feel more unhappy about my actions. It's so hard to practice self-love when you hate yourself. I thought I could handle myself by controlling my dark thoughts but I got overwhelmed which is why I asked for help.
#2 Following what happened my parents set me up an appointment on Thursday for my first counseling session. I didn't know what to expect but she just asked me questions and I told her some of my background information. I did feel a little bit better afterward but I feel like I didn't open up as much as I should. With that said, I already booked my next appointment is next week so hopefully, I'll open more next time.
#3 On to happier news, guess who found the cow squish? Me! Her name is Cari the cow, she has two of my favorite foods on her ear a doughnut and strawberry!
#4 Remember that I said I was going to watch Infinity War last week? Well, that didn't happen. Other events got in the way. However, I did watch Spiderman: Homecoming and Thor: Ragnarok this week. Now I'm pumped up even more to watch Infinity War.
#5 If you want a relaxing show to watch this weekend I recommend Hyori's Homestay. It's a Korean variety show that shows you what happens when singer Lee Hyori and her husband turn their home in Jeju Island into a bed and breakfast. The mood of the show is very relaxing it makes you feel calm like you're on holiday. I know they're a few seasons but I'm still on the first one with IU.
#6 Sorry for all the crochet content in April. I was looking back at all the posts I published in April and there was a lot of crochet-related posts. I don't want my blog to turn into a crochet blog because I still have many other interests that I want to share with you guys. I promise to post a wide selection of blog posts in May.
#7 My new favorite podcast is And That's Why We Drink, a paranormal and true-crime podcast. It's like My Favorite Murder but with some paranormal stories sprinkled in. If you love MFM then I think you'll love ATWWD. I've been binging listening to it backward (yes, I'm that person) for the past couple of weeks now but the story that frightened me the most (so far) is the episode on black-eyed children. O-O
Related Posts