A couple years ago I made a post on
my planning essentials
. Since then I've grown and wanted to make an updated version. I pretty much still use the same items but some things have changed. You don't necessarily need all of these things but I think they may be helpful to those who are new to daily or weekly planning. Hopefully, this will be helpful to some of you.
Happy Planner
I've tried many types of planners in the past like cute Korean planners from eBay, the Bando planner, even random planners from Target. However, my favorite planner is hands down the Medium
Happy Planner
because of the vertical layout, cute designs, vast amount of writing space, and it's customizable! You can buy different color rings, inserts, covers, etc. If you want a cheaper and cuter version of the Erin Condren planner I highly recommend the Happy Planner they even have a mini version.
Pens
The type of pen you use in your planner is very crucial. It took me a while until I found a pen that works best for me so I would say experiment with different pens until you find one that suits you. My favorite is the Pilot Juice pen in 0.5 or 0.7 in black but I also have these in different colors. After buying
this set
I really loved the 0.5 and 0.7 sizes the best but I also use the .38 for a finer detail.
Scissors
I use scissors to cut washi tape, stickers, and sticky notes. I don't have any special scissors so I just use embroidery scissors because they're sharp and cut everything easily.
Sticky Notes / Tabs
I use note tabs to write down important dates and events. Later when I'm planning my week I will reference these tabs. You can use any notepads but I prefer to use note tabs instead because they're cuter. I use bigger sticky notes and place them on days when I don't have a lot going on like the weekends.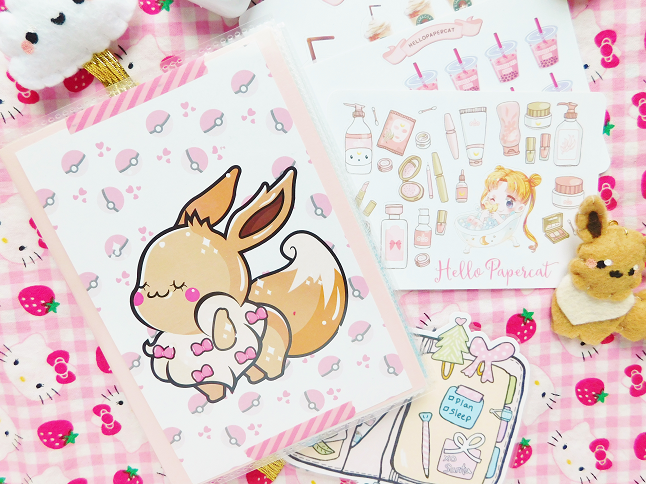 Sticker Book
If you've seen my other stationery posts then you know I'm a huge fan of cute stickers. It's my number one favorite way to decorate my planner.
My most used stickers are from Sprinkled Pug but I also have some from various Etsy sellers and lately, I've been using stickers from Hello Paper Cat. I keep most of my stickers organized in a sticker book. Having a sticker book makes it easier for me to flip through the stickers I have in my collection. You can find these photo books in the photography or frame section of any craft store for a few dollars (mine cost a dollar!). I inserted that Eevee print on the cover, the print is from SharodactylArt.
Adhesive Roller
This isn't something I normally see in other people's planner essentials but I can't live without it, tape runners! An easy to use roll-on tape without any mess. I've tried using glue sticks but I always manage to get sticky everywhere so I use a tape runner instead. My favorite is the
Scotch Adhesive Roller
but it's usually sold out in stores so I buy the
heart patterned ones
(
and star
) which work but aren't as good as the original one.
Correction Tape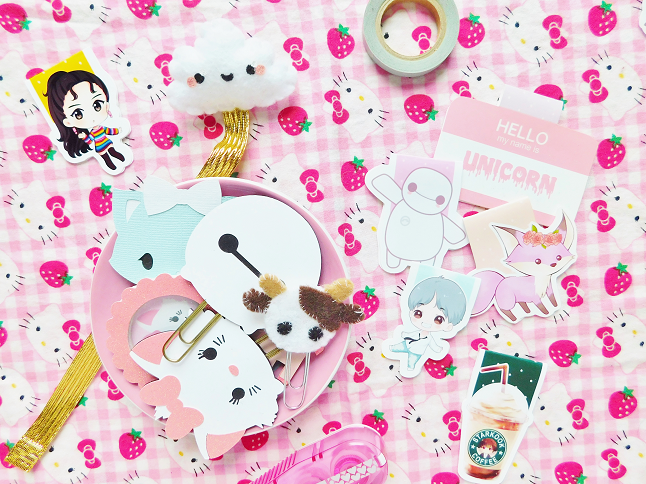 Paper Clips / Bookmarks
Bookmarks, paper clips, page dividers, etc, can always be found in my planner! I always have one to keep my spot of the current week and one in the monthly calendar. Bookmarks make it easy to access the important pages in my planner.
I love the magnetic bookmarks from Hello Paper Cat because they're sleek and come in cute designs. The Disney paper clips are from an Etsy shop that sadly isn't around anymore. The cloud bookmark is from Love Neen. I use the cloud more in my Travelers Notebook because it's easy to slide in and out.
Washi Tape
Washi tape is my second favorite way to decorate my planner with. I use thin colored washi to cover the headers in my Happy Planner and patterned washi to line the bottom of the pages.
Related Posts