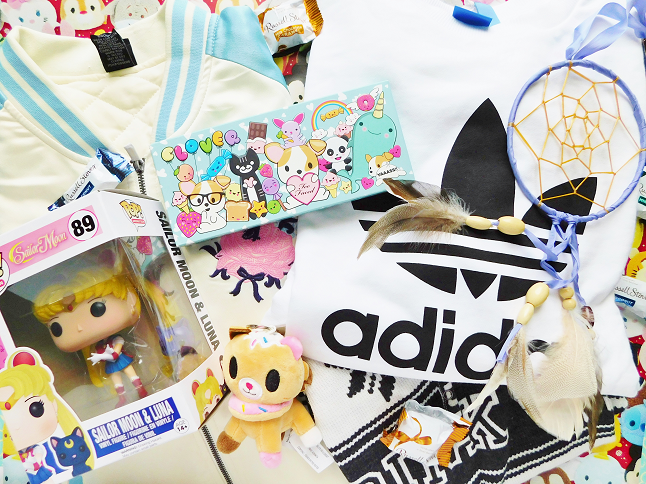 Yup! Blogmas is still a thing at least on my blog. As mentioned before, I will keep posting until the end of December. Some people either love these type of posts or not I personally love seeing what other bloggers got for Christmas. I'm typing half of this post ahead of time so on Christmas Day I can just take pictures of the things I received from my family, edit, and publish the following day (today). That being said, I don't know what I'm getting because I wasn't even asked what I wanted this year but I like anything cute so I don't think I'm a difficult person to shop for. I pretty sure I know what my mother got me but everything else is a complete mystery to me.
Let's start with what my parents got me first. These are the two things I knew I was getting from my mom because when we were shopping earlier this month she asked me if I wanted anything at Journey's and I said I wanted a white Adidas sweatshirt and whenever I mention anything I want in December she buys it for me for Christmas, and she did. She also bought me a PINK winter sleepshirt which I knew I was getting that too because I was with her when she bought it.
My mother also got me the Too Faced Clover Palette! I wasn't expecting this so I was happy to receive it. My dad gave me some Christmas money to spend on whatever I want.
Here is what the eyeshadow shades look like inside. This is my third Too Faced palette I've gotten for Christmas in a row! Let me know if you guys would like to see a Too Faced palette collection post or a review.
My younger sister got me a Sailor Moon Pop vinyl figure (do they not call them Funko Pop! anymore?). I want to start a Pop vinyl figure collection with some of my favorite characters so this is an excellent start! By the way, do you guys keep your figures in the box? I always unbox mine because I think it's a waste to keep in the boxes.
My older sister bought me a dreamcatcher, a blind bag Tokidoki clip-on plush, and a sheet mask. I've always wanted a dreamcatcher but I heard you're not supposed to buy your own because it's bad luck not sure if that's true or not but that's my reason why I haven't bought one.
My older sister also bought me an Alice in Wonderland varsity jacket. I wasn't expecting this but it was a wonderful surprise! I love the colors and embroidery on the jacket and it fits perfectly! I can't wait until it gets a little warmer so I can wear it.
Related Posts