On the eleventh day of Christmas, I made crocheted this for you, a house key cozy necklace! We only have one more DIY left! Can you believe it? Losing or forgetting your keys can be really annoying that is why today's DIY is on how to crochet a cute little cozy for your key(s) can live in. This is a super simple crochet project and takes less than an hour to make! This cozy would also make a lovely stocking stuffer to those who are easily forgetful.
You will need
– 2 different colored yarns
– J/6.00 mm crochet hook
– Your house or car key
– Cord or necklace chain
– A thick round bead
– Decorative supplies to decorate your house with (I used a wooden button)
Aberrations
sl st – slip stitch
sc – single crochet
ch(s) – chain(es)
st(s) – stitch(es)
(x2) – repeat however many times inside
*If something doesn't seem right let me know and I will try to fix the pattern.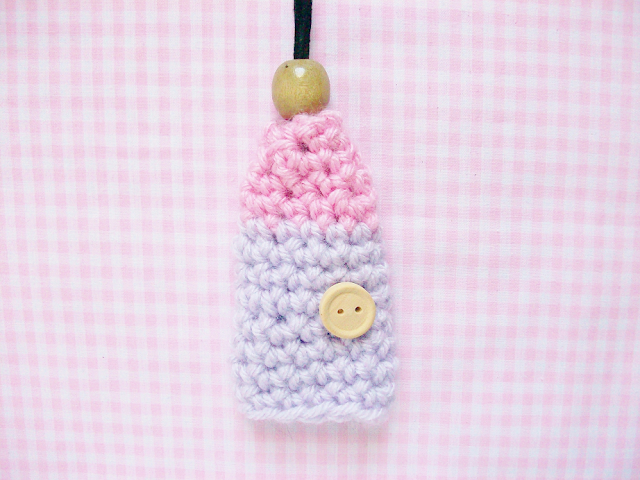 House
– Ch 6, slst to form ring. Total = 6 sts
– Sc 6 sts into ring. Total = 6 sts
– 2 sc in next st, sc 1 st (x3). Total = 9 sts
– Sc 9 sts. Total = 9 sts
– 2 sc in next st, sc 2 st (x3). Total = 12 sts
*color change*
– Sc 12 sts (x8). Total = 12 sts
Cut off
At this point, you can either leave your house as is or you can decorate it. I went with a simple design by gluing a wooden button as the doorknob. I encourage you to get creative!
To assemble your key cozy necklace, first, you are going to weave your cord (or necklace chain) through a thick bead. Once it's through the bead weave the cord through the cozy. After that attacth your key to the end of the cord (see picture above for reference). Once everything is tied together pull downwards on the bead and the key should be tucked in its new cozy home!
How many keys do you carry?