Scones are one of my favorite baked goods. I am always buying scones from Starbucks and grocery stores. I've always wanted to share a scone recipe but they are much more complicated then you would think. I've tried many scone recipes but have failed many times. So I followed a recipe from Good Saint because I suck at baking scones. Anyways the point of this post is to show you a cute Halloween baking idea that you can make for a party or movie night in.
I loved themed food which is why I wanted to make some for Halloween. These scones are made from matcha powder (aka green tea powder) so they are the perfect color to resemble Frankenstein. You can barely taste the matcha but you can taste the banana (which is used for this recipe) so if you don't like the taste of banana I recommend just using half the banana.
The icing is a vanilla-flavored glaze with melted chocolate used as the stitch toppings. I used
this recipe
but did switch things up so I will talk about the changes I did down below.
Ingredients
Scones
2 cups whole wheat pastry flour
3 tablespoons matcha powder
1 tablespoon baking powder
1/2 teaspoon salt
1 teaspoon coconut sugar
6 tablespoons cold vegan butter
1 banana (mashed)
1/4 cup almond milk
2 tablespoon maple syrup
Splash of almond milk (to use as a wash) (optional)
Glaze
1 teaspoon vanilla
1/2 cup powdered sugar
1 tablespoon almond milk
1/4 teaspoon vanilla
1/4 cup of vegan mini chocolate chips
I took out the ginger because we didn't have any and added an extra tablespoon of matcha powder for a more green look. Since match can be bitter I added one teaspoon of coconut sugar in case the sweetness of banana and maple syrup wasn't enough.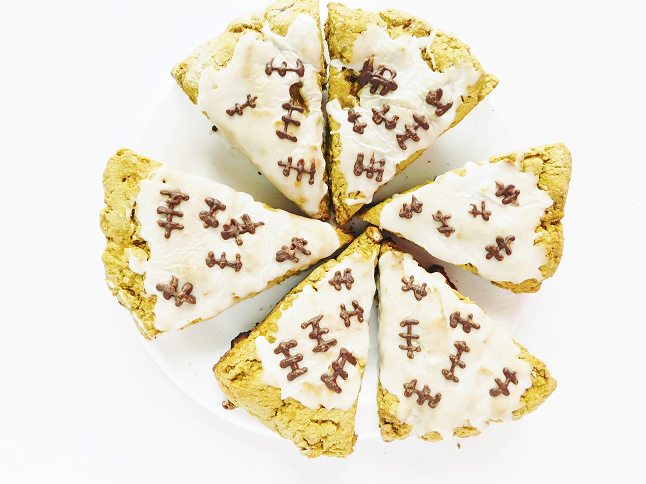 Directions
Prevent the oven to 425 F. Line a baking sheet and set aside.
In a large mixing bowl, whisk together the dry ingredients. Using a fork (or pastry cutter) cut in the cold vegan butter until crumbs start to form. Pour in the mashed banana and wet ingredients and stir together until sticky dough forms.
Place the dough onto a lightly floured surface and form a ball, roll out to a 1-inch thick. Cut into 8 equal scone wedges with a knife or pizza cutter. Transfer the scones to the baking sheet. If you want your scones to have a 'shiny look' lightly brush on some almond milk over the scones. Bake for 10-15, until golden. Make sure to keep your eyes on the scones after the 10-minute mark because I set my timer to 15 minutes and they came out a little bit crispy. Take out the scones and leave to cool.
Decorations
Whisk the ingredients for the glaze together in a small bowl, if you want a thicker glaze to add more powdered sugar but if you want a thinner glaze to use more milk. In a separate bowl, melt the chocolate chips and place them in a small piping bag. Make your own by placing a sandwich bag corner in a shot glass twisting and tieing the bag, snip a small hole in the corner of the bag.
Drenched the scone with glaze (dip, brush or use a spoon like I did) let the glaze dry before proceeding with the chocolate chips. Now draw on the stitches with chocolate, one long line, and a few smaller lines. continue until you have reached the desire of stitches you want your scone to have.
Related Posts